A Reel Life film section
Issue: Autumn 2010
The Big Easy (1986) movie review
A Different Way of Doing Things

This here's the Big Easy darlin'. Folks has got a special way of doin' things.
Deputy D.A. Ann Osbourne (Ellen Barkin) is about to learn a lesson in how to get along in The Big Easy (New Orleans). Remy McSwain (Dennis Quaid) is a third-generation cop in a town that loves to party. Is there a future for a lawyer with a nice neck and a job investigating police corruption and a cop who likes his perks.
When a dead body in a fountain looks like the beginning of war between the organised crime factions of New Orleans, it seems like the bad guys are just doing the police's job for them. But there is Ann Osbourne, asking questions, and Remy is starting to think that there is something more going on.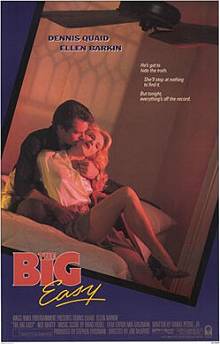 The Big Easy is a slick and sexy tale of an investigation in one of the world's party towns. Set firmly in New Orleans, The Big Easy follows the best of the crime genre, making the place a character of the story, the crime, criminals and crime-stoppers firmly and logically a part of the setting.
It's good, dirty fun when Ann and Remy work against and towards one another in their pursuit of the killers and a massive amount of drugs.
Stylish and well-paced, well-worth the visit.
DVD note: Some DVD copies of this movie are missing a final, and very good book-end scene with the two main characters. If you don't see Remy in the hospital, you've been shorted.
by Ali Kayn
Australian release 21 August 1986
For credits and official site details, see below
Search Festivale for more work by the film-makers below.

See also: Undercover Blues ; Frequency ; Inner Space; Dragonheart; Playing by Heart

for movie, TV show, or person

Film commentary and upcoming movie release dates at reel-life.info

Just the facts:

Title: The Big Easy (1986)
Written by: Daniel Petrie Jr.
Directed by: Jim McBride
Running time: 102 mins
Rating: M

---

The Players: Dennis Quaid, Ellen Barkin, Ned Beatty, Lisa Jane Persky, John Goodman, Grace Zabriskie

---

Official website:
IMDb entry

---

For session times of current films, use the cinema listings on the Movie links page. For scheduled release dates, see the coming attractions section.

For more information about this movie, check out the internet movie database.
For the latest additions to Festivale, check out the change history section.