Ballooning over Australia
Photostory
In Regency times crowds of all social classes gathered to watch balloon ascensions. Balloons promised an answer to the magical dreams of flight and speedy travel, travelling high above the countryside under a beautiful fabric canopy.
Technology has brought us jet planes and helicopters, space shuttles and moon landings, but the sight of colourful balloons bearing their passengers over our heads.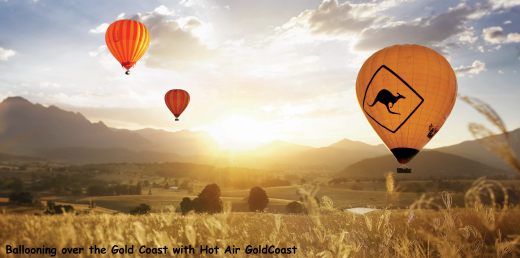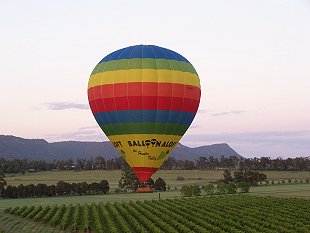 Balloon flights are available above many beautiful Australian places. For tourists they are an exciting addition to an Australian holiday, for locals, they are a short never-to-be-forgotten adventure, or a unique way to celebrate a special occasion.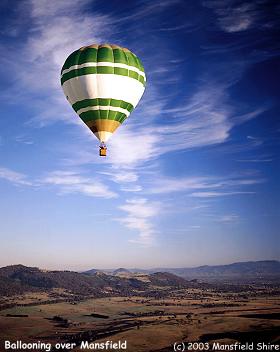 Typically balloon flights are made at dawn or dusk as this is when the air is calmest. In Melbourne, flights over the inner city area in the early morning offer a peaceful birds-eye view of the city. From the ground, we often see a small flock of these colourful vehicles.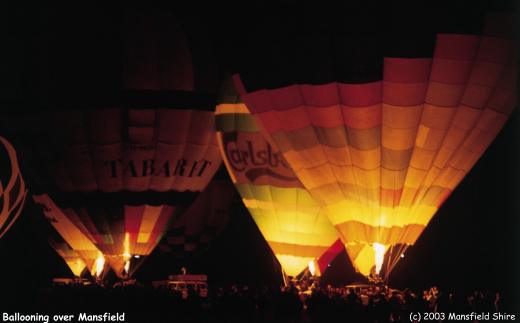 OUR BALLOON RIDE with HOT AIR
By Pamela Fox
Early morning greeting, as the dawn is slowly creeping
'cross the ridges and the valleys of the Gold Coast Hinterland.
We watch balloons inflating, hear the bush calls while we're waiting
for the word to climb aboard and drift across a wonderland.
Our spirits they are rising and it isn't so surprising,
the enchantment of hot air balloons has captured many hearts.
Our craft at last is ready and the crew hold it so steady,
we've confidence, our pulses race, our great adventure starts.
Like magic we are lifted and above the trees we've drifted
and in less than twenty heartbeats we're above the farming land.
Like eagles we are soaring, now and then the burner's roaring,
then the silence, like a soft caress, infolds us as we stand.
Down below the world is waking, lifetime memories we're making,
absorbing all the splendour from our perch 'twixt earth and sky.
We see the small creeks racing, as the sunlight starts embracing
all the rivulets and farm dams, like the twinkle in an eye.
And the artistry of farming, contour ploughing patterns charming,
join the tracks drawn by the animals, their habits leave their marks.
Small villages and roadways, isolated farms and highways
and a township in the distance with its water tower and parks.
To the south we see the ranges, like old friends they're never strangers
for the hinterland is home to us, though we have never seen
the beauty we are viewing, it's refreshing and renewing
our love of home and country, for Australia's red and green.
All too soon the ride is over, we glide down and land in clover
and we count our many blessings that we've had this ride today.
For it's really given pleasure and great memories to treasure.
We'll not forget the joy we've shared, until our dying day.