William Ricketts Sanctuary
Art in the Bush
I raise my eyes to the gums overhead
That filter the suns golden gleaming
And I think once again of a friend I once had
Who's part of my bushland dreaming
Blossom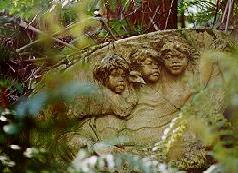 The air is the first thing you notice. It is slightly moist, cool, and refreshing - a drink for the skin and the soul. The sunlight is gentle, diffused by the leaves in the canopy far, far above.
This is the Australian rainforest, with incredible straight trees reaching almost forever to the sky, and underneath a tangle of would-be giants amongst the tree ferns. The path is flat, crazy-paved, winding amongst the mossy rocks and the rich forest floor. It is a green and brown and earth-smelling place - and it is an Australian art gallery.
The William Ricketts sanctuary is a think-piece of Australian Art. Set high in the Dandenong Ranges, it is a collection of "Billy" Ricketts sculpture in the bush that inspired it.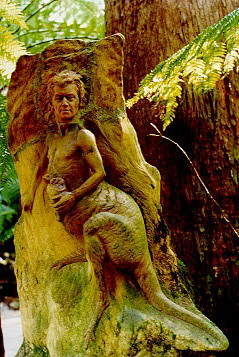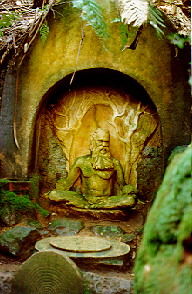 Ricketts was born in Richmond, a Melbourne suburb in 1898 and moved to Mount Dandenong in 1934. His work, peopled by European and Aboriginal figures is a masterpiece of intermixing.
The figures are of wood or clay, sometimes both. They blend into the landscape or strike out for the sky with outstretched wings. They are male and female, young and old, human and animal and creatures that are part man, part animal. Beards flow into the grain of wood and reaching hands become tree limbs. The influences are Australian aboriginal, European and Asian (he spent time in India).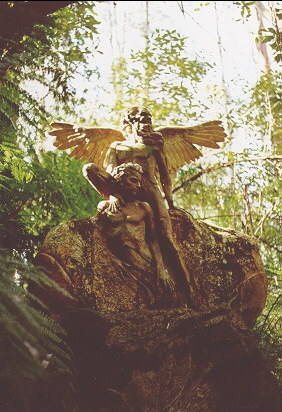 There is an almost zen feel to the place, with its contradictions and its statements.
Ricketts frequently lived with the Pitjantjatjar and Arrernte people between 1949 and 1960, and his work is an integration of the European Christian tradition and the traditions and culture he shared with the Australian Aboriginals.