---
Home (cover) > Bookroom > Book Reviews
---
Issue: Summer 2015-6
Splinter the Silence (2015) book review
Women Should Weep
D.I. Carol Jordan is retired to the country. She spends her time walking the dog and renovating the barn left to her by her brother. And drinking. Psychologist Tony Hill is worried, and lost, and about to take things into his own hands.
When Jordan hits bottom, Tony moves himself in and sets her a problem. He has seen a pattern of deaths -- supposed suicides of female cyberbullying victims.
Once again the pair, and their faithful police friends, are investigating where others see no crime. When Jordan is offered a second chance, her new team uses the investigation as a shakedown cruise.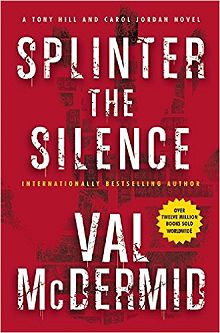 Let's be honest here. Few do it better than McDermid. Originally a journalist by trade, and a woman whose circle of friends and broad interests brings cutting-edge issues to her work, she has a taut, effective writing style.
McDermid writes evil, and relationships, and human flaws, and all with the particular British flavour that is so dry and delightful.
The British worlds of her characters are real and her work gives us insight into a culture as well as those who people it.
This is book nine of the series, and although it stands on it's own, it's a bit of a spoiler if you decide to go back and read the series in order.
Absolutely recommended.
For posts about Melbourne events, places, news, reviews, giveaways, see our Facebook Page: