---
---
A Reel Life film section
Issue: Spring 2022
My Secret Love of Hallmark
Rom Porn, hello?
Like millions (I'm sure) of others, I saw the brand and guessed the content. I had never seen one.
During the COVID lockdowns, when we were all in need of something light and undemanding I started exploring the Hallmark oeuvre. I started with the christmas movies. Not from any religious connection, as I am philosophically a Buddhist Atheist, but because those holiday time stories historically offer a light story with a warm-hearted happy ending.
I can't begin to tell you the order in which I watched them. Some are more memorable than others, often because like so many of you, I love series. One of my favourites features a red ute, what American's call a truck, which is something that seems to be connected in the U.S.A. with christmas. It is certainly seen in a lot of seasonal decorations.
I segued into the love stories, not ignoring the mysteries on the way. I have come up with a term, others likely have come to it as well -- Rom Porn.
Now, we use porn as a term to describe guilty pleasures, or something related to it. Food porn is the photographs of food that we see everywhere. House porn is the images and tv series and specials that indulge our love for fabulous or friendly homes. There definitely must be craft porn, and I certainly number among those addicts.
Romance has long been an industry, not just the flowers and the gifts and the inflated prices for the common diamond, but the books and the movies.
I grew up with two staples for escape. These two staples formed my idea of what love is supposed to be. The English Women's Weekly library and Georgette Heyer.
Every week EWW released small, thin paperback novellas, pocket sized for a lady's handbag, each with a happy ending. My grandmother had a pile of them beside her bed and every weekend I would read (devour?) one. The Georgette Heyers were my mother's pleasure, wittier, longer and taking place in a world of rigidly-enforced manners.
I assumed that the Hallmark movies would be closer to the EWW romances -- a formulaic chunk of fiction. What Mary Poppins might call pie crust fiction. Easily read and easily forgotten.
I found the Hallmark movies well made. They are light, well-paced, usually undemanding, and comforting. In the Hallmark world the baddie fares badly and goodies succeed in the end.
They don't tell the truth, that often families are not talking to one another because someone did something unspeakable. That the offenders should not be 'forgiven' because some things are, and should be, unforgiveable. We believe, somehow, that what can be forgiven can also be repeated, well, why not? So Hallmark does offend Lady Bracknell by making new people from old in the passage of a couple of hours.
But back to rom porn. Why do I call it that? Because like the porn industry, Hallmark film-makers delight in taking their storylines from existing, often well-known, stories. Whether we watch pornos or not, we know that the titles are often puns, so likely the stuttering storylines of those movies just follow the storyline that some other writer made. Call it plagiarism, or satirism, or an homage, but too often the real story-tellers are not credited. Mind you, how many writers really want a porno credit?
Hallmark movies also sometimes take storylines from the film archives. BROADCASTING CHRISTMAS is just BROADCASTING NEWS set at christmas-time. Sometimes the film titles don't give away the original. THE CASE FOR CHRISTMAS is MIRACLE ON 34th STREET with Dean Cain as a widowed single dad and struggling lawyer and Helen Colliander as daughter Lily looking very much like a very young Natalie Wood. Basically, this is a remake of MIRACLE ON 34th STREET updated and wthout the good manners of crediting Valentine Davies and George Seaton.
What is interesting is that the Hallmark-distributed versions are played straight, and usually with some respect for the script and the audience.
Naturally enough, Jane Austen's work is thoroughly, and repeatedly mined. There is the series that starts with UNLEASHING MR DARCY, there's SENSE, SENSIBILITY AND SNOWMEN, and PRIDE, PREJUDICE AND MISTLETOE to name only a couple.
In a world where too much money is spent of special effects laden action pix that are heavy on the soundtrack and light on the characterisation and acting, it is a relief to discover that there are stories with good production values, solid actors (including quite a few familiar names), and an actual storyline with a point.
Don't dismiss the Hallmark offerings out of hand, and take them for what they are -- light entertainment that lifts the spirits.
Post your thoughts about movies etc in our facebook groupFestivale's Reel Life?
October, 2022
---
---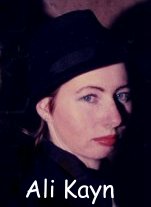 Ali Kayn is a freelance photojournalist and the founding editor of Festivale Online Magazine. Festivale was founded in October, 1996 to promote Melbourne and Victoria, provide mentorship to developing writers, an outlet for talented fans, and a test bed for software and hardware under review. She lives in Melbourne, Victoria with a garden full of birds.
Ali Kayn contributor page
For more about Ali Kayn click here
---
---
Film Releases this Season
This section is closed for renovation
Links to movie reviews, and first looks are in the Coming Attractions listings were available.
For the latest film reviews, check out our updates pages or browse through our film reviews index. We update the Reel Life Facebook page daily with trailers, news, and more. Or you can check out our Festivale Online Magazine Facebook page.
There's also Festivale on Twitter and This is Reel Life on Twitter and
---
Film Festivals this Season
Film Festivals are listed in the Coming Attractions pages
This section is closed for renovations
---
Giveaways
Watch here or our Facebook page for more giveaways as they are released.
Join in the draw this issue for prizes including:
There are no giveaways this issue.
---
For posts about Melbourne events, places, news, reviews, giveaways, see our Festivale Online Facebook Page: