A Reel Life film section
2004
The Truth About Cats and Dogs (1996) movie review
Cyrano Without the Nose
Noelle and Abby live in the same building. Apart from that they have little in common.
Abby is a successful radio vet handing out sensible advice to callers, including a photographer with a nervous great dane on roller skates.
Noelle is the beautiful blonde model who looks great but has lousy taste in men.
When a panicked Abby receives a thank you call from the photographer Brian, she describes herself as the lovely Noelle and when he pursues the friendship complications ensue.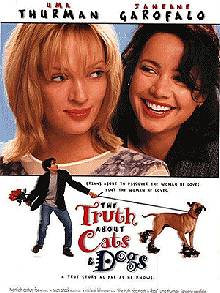 Brian's about to discover the woman he loves isn't the woman he loves.
Like the lovers in classic tale of Cyrano de Bergerac, Noelle and Abby become two sides of a fantasy. Noelle is beautiful but not deep. Abby is fun, quirky and uninhibited on the telephone, but sensitive about her appearance.
As the two women juggle their joint and separate relationship with Brian their friendship develops.
In this reinterpretation of Cryano the friendship between the two pretenders for the unattainable love is central.
Witty and thoughtful -- a nice combination.
by Ali Kayn
Released 11-Jul-1996
For credits and official site details, see below
Search Festivale for more work by the film-makers below.

See also: The Accidental Husband, Roxanne, Cyrano de Bergerac, Bigger than the Sky

for movie, TV show, or person

Film commentary and upcoming movie release dates at reel-life.info

Just the facts:

Title: The Truth About Cats and Dogs (1996)
Written by: Audrey Wells
Directed by: Michael Lehmann
Running time: 97 mins
Rating: M

---

The Players: Uma Thurman, Janeane Garofalo, Ben Chaplin, Jamie Foxx,

---

Official website:
IMDb entry

---

For session times of current films, use the cinema listings on the Movie links page. For scheduled release dates, see the coming attractions section.

For more information about this movie, check out the internet movie database.
For the latest additions to Festivale, check out the change history section.