If it all sounds a little childish, a little predictable and a lot unrealistic, rest assured - it is. But heck, it's all about fun, and it comes in bucket loads when you watch the manufactured toys slug it out. Although it as first seems that Dante is unsure of whom he wants us to barrack for, the "there will be no mercy" Elites become poised as a splendid group of baddies, who think that they're the heroes of the story.

Two bumbling employees of Globe Tech, presumably some sort of high tech and omnipotent organization, design a new set of toys to impress the boss. In order for the toys to think and react by themselves, state of the art military chips are inserted into them. The Commando Elites are programmed to destroy the enemy at any price, and the Gargonites to hide and search for their home planet Gargon. Thus a memorable bunch of misfits are created but with no specific originality - the cliché characters are well and truly evident, especially in the hard-hitting Tommy Lee Jones, Phil Hartman of the Elite's (voice of Tommy Lee Jones) and the set of bumbling (but lovable) Gorganites.

I guess it goes without saying that the team from Industrial Light & Magic have once again created some splendid animation eye candy; the toys don't move like cartoon characters, they move like toys. Their voices are played by a wide range of quirky counterparts: Jones, Frank Langella, Christopher Guest, Harry Shearer, Sarah Michelle Gellar, and Christina Ricci amongst others.

The human cast, given the tough job of reacting to our little instigators, are a fairly lifeless bunch. The only actor who breathes much needed energy into his character is the late Phil Hartman, in his last screen role. And although Hartman is at his best only when he is the instigator (take his hilarious character in News Radio, for example), this is certainly a worthy final performance for someone who was one of the true funnymen on TV.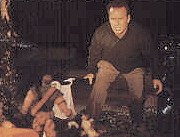 The only really discouraging aspect of Dante's unique creation is the poorly written, poorly executed battle sequences. The framework for these scenes is too simplistic and repetitive, as we find our baneful Elites doing everything possible to strike miniature amounts of terror into the audience. They squirm, wriggle and twist their way into vapid scenarios, which mostly involve a large catapulting device or a speedy flying contraption. Not even the addition of hundreds of aggressive Barbie dolls manages to give the scenes more credibility. But in all fairness, the final moments make some great viewing - who would have thought that a showdown between two toys on top of a telephone pole would be one of the most memorable action sequences this year?
Despite the fact that Small Soldiers might well be one of the most grisly kids flicks in recent years, Dante seems unclear whom to market it for, with its childlike moments of super-happy-fun and its particularly gruesome end to the team of Elites. But still, he does make it work, and in an industry where action figures can be a huge slice of the market, it's refreshing to see a film which subtly parodies the commercialism of mainstream cinema. Or perhaps, Dante is just having some fun.