A Reel Life film section
Issue: Summer, 2002
Pygmalion movie review
A young street vendor, Eliza Doolittle, offers to pay a vocal expert, Professor Henry Higgins, to teach her to speak well enough for her to get a job in a shop. The expert and a friend make a bet, can he teach her so well that she can pass for an upper-class lady?
Inspired by the classic story of Pygmalion by Ovid in which a sculptor who had no time for real women, fell in love with one of his own statues, a statue that Venus then brought to life for him.
In this version, the clay to be molded is a young girl (Wendy Hiller) and the modeller is a professor (Leslie Howard) and his friend Colonel George Pickering (Scott Sunderland).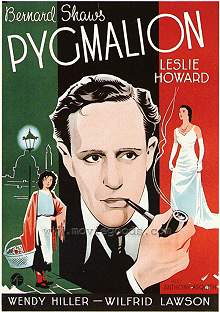 Based on the George Bernard Shaw play, Pygmalion is a clever and well-performed story of a mentor who fails to respect his pupil, and a love that seems impossible. This is the original of the well-known musical My Fair Lady, and inspired She's All That .
An enjoyable film, and a wonderful chance to see people such as the great Wendy Hiller in their youth.
Available on DVD.
by Ali Kayn
Australian release 1938
For credits and official site details, see below
Search Festivale for more work by the film-makers below.

See also:

for movie, TV show, or person

Film commentary and upcoming movie release dates at reel-life.info

Just the facts:

Title: Pygmalion (1938)
Written by:George Bernard Shaw (play, scenario and dialogue) (as Bernard Shaw), W.P. Lipscomb (scenario) and Cecil Lewis (scenario), Ian Dalrymple uncredited and Anatole de Grunwald uncredited, Kay Walsh additional dialogue (uncredited)
Directed by: Anthony Asquith Leslie Howard
running time:

---

The Players: Leslie Howard, Wendy Hiller, Wilfrid Lawson

---

Official website:
IMDb entry

---

For session times of current films, use the cinema listings on the Movie links page. For scheduled release dates, see the coming attractions section.

For more information about this movie, check out the internet movie database.
For the latest additions to Festivale, check out the change history section.