A Reel Life film section
Issue: Autumn, 2010
Sabrina (1954) movie review
If there's one thing I believe in it's love thy neighbour.
Sabrina is the chauffeur's daughter. She is a slightly gawky adolescent who is in love with the womanising younger son of the Long Island household in which her father works.
Her father sends her to Paris to attend a famed cooking school and when she returns two years later she is chic, polished, and dressed with Parisian flair. The younger son, David (William Holden) is charmed. Not so the elder son, Linus (Humphrey Bogart) who is trying to marry David off to the heiress of an important potential business ally. It is up to Linus to wean Sabrina off David in any way he can. By charm, if he can remember what that is.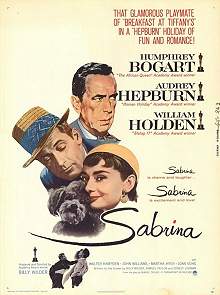 David: I could have sworn I knew every pretty girl on the north shore.
Sabrina: I could have sworn you took in more territory than that.
A classic black-and-white comedy, Sabrina has the advantage of an excellent cast who play their parts with a will. Bogart seems a bit uncomfortable as a successful industrialist, the awkwardness helping his performance a little, however his accent is that of a worker while David and Sabrina have much more cultured tones.
Will Sabrina win the heart of the elusive David? Is he worthy of her? Will Linus and The Family succeed in shipping her out before Sabrina ruins the upcoming merger?
The romantic triangle with two brothers, one responsible and sturdy, the other a gorgeous wastrel is a cliche of the times. Ask Any Girl, which film was not as good as the novel, also dealt with this classic idea of the man of character vying for the attentions of the man of charm.
A harmless romance with few surprises and very little insight, but interesting to watch for the leads.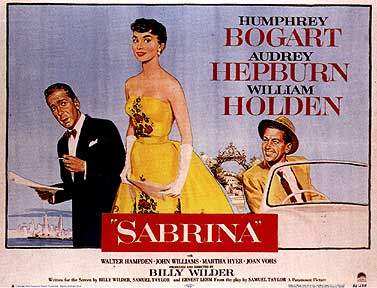 by Ali Kayn
Australian release 1954
For credits and official site details, see below
Search Festivale for more work by the film-makers below.

See also: Sabrina (1995)

for movie, TV show, or person

Film commentary and upcoming movie release dates at reel-life.info

Just the facts:

Title: Sabrina (1954)
Written by: Samuel A. Taylor (play "Sabrina Fair") (as Samuel Taylor) Billy Wilder (screenplay) & Samuel A. Taylor (screenplay) (as Samuel Taylor) & Ernest Lehman (screenplay)
Directed by: Billy Wilder
running time: 113 mins

---

The Players: Humphrey Bogart, Audrey Hepburn, William Holden,

---

Official website:
IMDb entry

---

For session times of current films, use the cinema listings on the Movie links page. For scheduled release dates, see the coming attractions section.

For more information about this movie, check out the internet movie database.
For the latest additions to Festivale, check out the change history section.