A Reel Life film section
Issue: Autumn, 2010
Sabrina (1995) movie review
Save Me, Sabrina Fair
Once upon a time in a mythical place called Long Island, there lived a gawky young chauffeur's daughter who had a crush on the younger son of the house. When she was old enough, they sent her to Paris to work for Vogue. A year later, she returns ...
Sabrina is a remake of the 1954 classic romantic comedy which featured Audrey Hepburn, Humphrey Bogart and William Holden. Remakes are not an intrinsically bad idea, after all we put on successful plays many times with many different casts.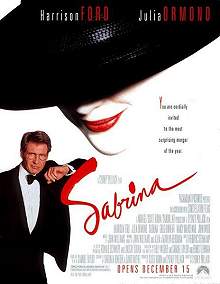 The questions we have to ask is whether a remake is justified. Does it bring something new to the telling of the story? Is it more accessible to a contemporary audience? Has the original become dated because of story treatment, cinematic devices, or such? Are the roles so important, so challenging, so iconic, that film-makers want to return to the stories and audiences are interested in seeing new versions?
The original Sabrina still holds up today as a watchable film. Bogie is just as awkward as a corporate mogul as he was in the 1950s, and Hepburn and Holden as just as charming. Business has changed a bit, but not so much that the aristocracy of corporate America aren't still willing to marry business with, er, marriage.
In the 1990s version of Sabrina , the mother of the Larrabee men has become a corporate matriarch (Nancy Marchand), toiling in the office to earn bigger and better homes in Tuscany. The father is out of the picture, giving the elder son, Linus (Harrison Ford), a stronger role in the business, and the story. The many-times married younger son, David (Greg Kinnear) is a playboy with commitment issues, to women and to other interests. Young Sabrina is played by Julia Ormond who is dowdied-down as the youthful and lovestruck teenager and easily given a glossy chic as the returning elegant photographer. John Wood as the chauffeur father has a much stronger presence in this film also.
So the balance of the characters has changed, but is this a better, more contemporary version?
Certainly Ford as Linus is just as awkward and self-conscious as Bogart was. The character is a difficult one to play and neither actor has completely mastered the combination of corporate powerhouse and isolated and lonely man. The other actors, including Lauren Holly as Kinnear's other love interest have a firm grasp of their characters. Despite their short time on the screen Angie Dickinson and Richard Crenna make cringe-worthy parents for Holly's character.
Romantic comedies are targetted at a specific audience. They can be broadly appealing if the comedy is appropriately handled, however films such as Sabrina are fairy tale romances. The comedy is secondary to the romantic triangle, and in this case the triangle is not well weighted. To be truly successful and compelling, there should be options that are equally attractive, although for different reasons. In Sabrina Linus' awkwardness in life and drive in business are not sufficiently endearing to overbalance the charm of his playboy brother. Yes, Linus has more substance, but is he attractive enough to win the girl?
Sabrina is not one of director Sydney Pollack's most successful works, is it a passable way to spend time, but it fails to be a glorious celebration of romance, which is what the material ought to be.
Sigh, well perhaps in 2030 they'll make a version that really makes a A-Class love story. Meanwhile, Sabrina remains a little something strictly for lovers. And wanna-be lovers.
by Ali Kayn
Australian release 15 Feb 1996
For credits and official site details, see below
Search Festivale for more work by the film-makers below.

See also: Sabrina (1954)
For a fun romantic comedy, try one of the Nancy Meyers movies such as The Holiday or Something's Gotta Give .

for movie, TV show, or person

Film commentary and upcoming movie release dates at reel-life.info

Just the facts:

Title: Sabrina (1995)
Written by: Samuel A. Taylor (play) (as Samuel Taylor) Billy Wilder (earlier screenplay) and Samuel A. Taylor (earlier screenplay) (as Samuel Taylor) and Ernest Lehman (earlier screenplay) Barbara Benedek (screenplay) & David Rayfiel (screenplay)
Directed by: Sydney Pollack
running time: 127 mins
rating: PG

---

The Players: Harrison Ford, Julia Ormond, Greg Kinnear, John Wood, Nancy Marchand, Richard Crenna, Angie Dickinson, Lauren Holly, Dana Ivey,

---

Official website:
IMDb entry

---

For session times of current films, use the cinema listings on the Movie links page. For scheduled release dates, see the coming attractions section.

For more information about this movie, check out the internet movie database.
For the latest additions to Festivale, check out the change history section.