A Reel Life film section
Issue:
When Harry Met Sally (1989) movie review
When Harry Burns (Billy Crystal) met Sally Albright (Meg Ryan) they were college graduates crossing the country towards New York and their separate futures in a shared car. Over the years their paths cross occasionally until finally, while both are nursing post-breakup hearts, they become friends.
But Harry said men and women can never be friends. Is this going to be the case? They talk, they share movies and secrets, and they try to set one another up with their respective best friends (Bruno Kirby and Carrie Fisher).
It's a clever story, linked by a series of anecdotes told by couples who have been together for a long time.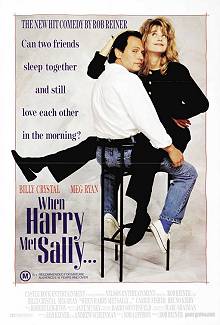 This romantic comedy, written by Nora Ephron and directed by Rob Reiner, has become a film school classic -- an example of how to do the genre. It has well-drawn, amusing, opinionated characters, great pacing, excellent comedic timing, and reflects the stumbling attempts we all make sometimes with our friends and lovers.
When Harry met Sally it was the congruence of differences, the battle of the sexes, the war of good manners over evil all rolled into one, makes you happy movie.
by Ali Kayn
Australian release 19 October 1989
For credits and official site details, see below
Search Festivale for more work by the film-makers below.

See also: Nora Ephron (Julie & Julia, You've Got Mail, Bewitched, Michael); Rob Reiner (The Story of Us, Alex and Emma, Postcards from the Edge, EdTV)

for movie, TV show, or person

Film commentary and upcoming movie release dates at reel-life.info

Just the facts:

Title: When Harry Met Sally (1989) (1989)
Written by: Nora Ephron
Directed by: Rob Reiner
running time:

---

The Players:

---

Official website:
IMDb entry

---

For session times of current films, use the cinema listings on the Movie links page. For scheduled release dates, see the coming attractions section.

For more information about this movie, check out the internet movie database.
For the latest additions to Festivale, check out the change history section.