A Reel Life film section
Issue: Winter, 2000
Isn't She Great movie review
Based on the life of popular author Jacqueline Susann an unsuccessful actress who decides to find fame and fortune by writing a sexy bestseller.
She wrote books that were mad, bad, and over the top. The broke the rules of grammar, metaphor and good taste. Jacqueline Susann was hugely successful, but first she was a failure who only her agent (Nathan Lane) and her best friend (Stockard Channing) believed in.
This is the story of a woman who lived an eccentric life, who found fame and fortune by hard work and by believing in her work when no-one else did. She accepted and made a place for a child with disabilities and cancer without making a drama about them.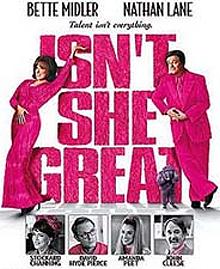 This is an inspiring story about making a life for oneself on one's own terms. It proves that when it comes to acting, comedians can do anything.
by Ali Kayn
Due for Australian release 1 June 2000
For credits and official site details, see below
Search Festivale for more work by the film-makers below.

See also: Bette Midler (That Old Feeling, Isn't She Great, The Women, Then She Found Me, The Stepford Wives, What Women Want, Beaches, Big Business, Outrageous Fortune, Ruthless People, The Rose)

for movie, TV show, or person

Film commentary and upcoming movie release dates at reel-life.info

Just the facts:

Title: Isn't She Great (2000)
Written by: Michael Korda (article), Paul Rudnick (screenplay)
Directed by: Andrew Bergman
running time: 95 mins

---

The Players: Bette Midler, Nathan Lane, Stockard Channing, David Hyde Pierce, John Cleese, John Larroquette, Amanda Peet,

---

Official website:
IMDb entry

---

For session times of current films, use the cinema listings on the Movie links page. For scheduled release dates, see the coming attractions section.

For more information about this movie, check out the internet movie database.
For the latest additions to Festivale, check out the change history section.