A Reel Life film section
Issue: 2010
Fantastic Mr Fox (2009) movie review
He Stole from the Farmers ...

He stole and he cheated and he lied just to survive.
It's typical of Roald Dahl that he made a hero from the terror and pillager of the henhouse -- a fox. In this animated adventure the fox is a reformed raider, one who gives up 'the life' when his missus becomes pregnant. Years later he has a foxy midlife crisis, moves the family from the fox hole to a tree, and plans one last three-part heist.
Meanwhile the introduction of a meditating athletic cousin into the household has the undersized cub feeling displaced.
Voiced by some of the best-known contemporary names in Hollywood, Fantastic Mr Fox has a picturesque puppetry style. It looks like an animated picture book.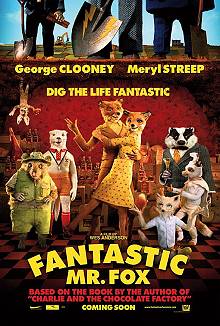 I think foxes from your side of the family take unnecessary risks.
While it is necessary for 'wild' animals to 'steal', especially those whose natural hunting grounds have been taken over by humans, holding up lying and cheating and stealing as necessary is questionable in family story-telling. The 'scoundrels' are scoundrels because they are farmers and protect their own, not because they are devastating the land, indulging in barbarous practices or otherwise offending the rules of good behaviour.
Even at 87 minutes, this production is over-long for the storyline, however its naive style may just hold the interest of the younger viewers.
by Ali Kayn
Due for Australian release 1 Jan 2010
For credits and official site details, see below
Search Festivale for more work by the film-makers below.

See also: Roald Dahl also wrote the novel Charlie and the Chocolate Factory (Willy Wonka and the Chocolate Factory ).

for movie, TV show, or person

Film commentary and upcoming movie release dates at reel-life.info

Just the facts:

Title: Fantastic Mr Fox (2009)
Written by: based on the novel by Roald Dahl; Wes Anderson & Noah Baumbach (scr)
Directed by: Wes Anderson
Running time: 87 mins
Rating: PG

---

The Players: George Clooney, Meryl Streep, Bill Murray, Owen Wilson, Willem Dafoe, Michael Gambon, Jason Schwartzman

---

Official website: http://www.fantasticmrfoxmovie.com
IMDb entry

---

For session times of current films, use the cinema listings on the Movie links page. For scheduled release dates, see the coming attractions section.

For more information about this movie, check out the internet movie database.
For the latest additions to Festivale, check out the change history section.