A Reel Life film section
Issue: Summer 2009
Star Trek XI a.k.a Star Trek Zero (2009) movie review
Before the Great Trek
The next release in the Star Trek franchise is a return to the beginning -- a prequel to the original television series with the original characters. Returning to their roles are Leonard Nimoy (Spock) and Majel Barrett as the voice of the Starfleet computers.
In this reboot of the Star Trek franchise, a small change in the life of James T. Kirk changes the Star Trek universe. A group of young people with diverse interests and personalities come together to serve in Starfleet.
Told with the trademark humour and wonder of the original series, this latest addition to the Star Trek franchise gives the film-makers a chance to revisit and reinvent the characters.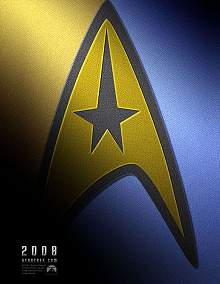 We meet the future command crew of the Enterprise in their youth and join in their earliest adventures and the beginnings of their friendships. This is science fiction full of hope and ethical struggles and shiny, shiny space ships. It's nice to see something so fun and satisfying in this age of dark science fiction.
Highly recommended.
by Ali Kayn
Due for Australian release May 2009
For credits and official site details, see below
Search Festivale for more work by the film-makers below.

See also:
Star Trek First Contact
Star Trek IX Insurrection
Star Trek X Nemesis
Interview with Majel Barrett
Interview Robert O'Reilly
Interview with David Gerrold


for movie, TV show, or person

Film commentary and upcoming movie release dates at reel-life.info

Just the facts:

Title: Star Trek XI (2009) (2009)
Written by: Roberto Orci & Alex Kurtzman(scr); Gene Roddenberry (television series "Star Trek")
Directed by: J. J. Abrams
running time:

---

The Players: Chris Pine, Jennifer Morrison, Leonard Nimoy, Winona Ryder, Eric Bana, Zachary Quinto, Bruce Greenwood, Majel Barrett (voice),

---

Official website: www.startrekmovie.com
IMDb entry

---

For session times of current films, use the cinema listings on the Movie links page. For scheduled release dates, see the coming attractions section.

For more information about this movie, check out the internet movie database.
For the latest additions to Festivale, check out the change history section.