---
---
A Reel Life film section
Issue: Autumn 2016
Finding Dory (2016) movie review
Involving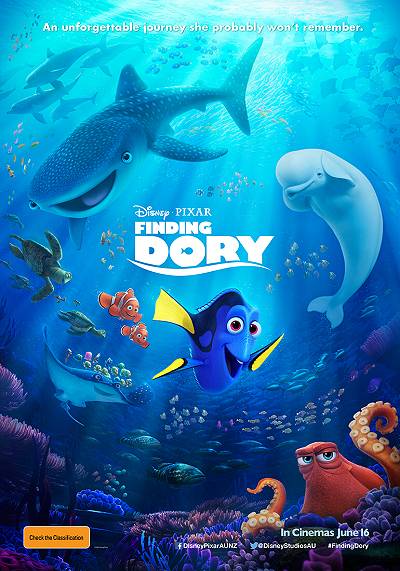 The friendly-but-forgetful blue tang fish reunites with her loved ones, and everyone learns a few things about the real meaning of family along the way
Last night's movie was Finding Dory.
It's a tough movie to review, because on the one hand you want to judge it on its own merits. On the other hand, you want to compare it to Finding Nemo.
I think any comparison is probably unfair. The first film was about a father learning to trust his son's independence -- that's echoed in a very minor but very necessary subplot. Marlin is a neurotic fussbudget, but his heart is big and his intentions are good, but he's cautious to a fault because he knows what the dangers are. So he's understandable.
Fortunately, the film focuses much more on Dory than on Marlin and Nemo -- because Dory is (and always has been) a much more interesting character than Marlin.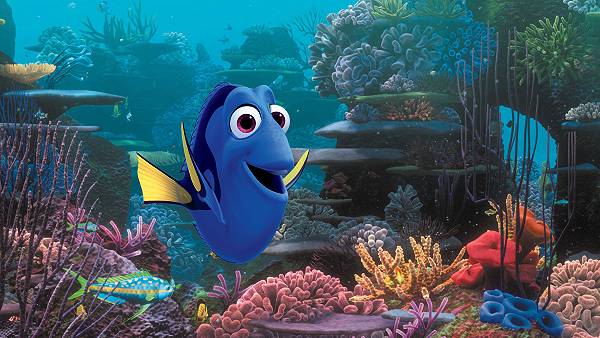 Remember Cars? That first one was a terrific film. (Puh-lease, if you didn't like it, you probably weren't the target audience. It was Doc Hollywood, all over again -- but for boys who love cars.) But the second film, Cars 2, was a colossal mess -- because Mater is a sidekick, never a hero. Coming back to Finding Nemo/Dory -- Dory was never just a sidekick, she was a major character in her own right -- so this spinoff works. Dory has an important backstory. (Mater never did, Mater never had enough at stake to make him interesting.)
Dory wants to find her family -- but also, as she searches, bits and pieces of her memory start coming back, and we discover that she is a much more complicated character than we saw in the first picture. And because she's much more nuanced, we end up caring for her much more than ever before. (It's too bad they don't give Oscars for animated performances. Ellen Degeneres is brilliant here.)
As much as I was emotionally involved in Marlin's relationship with his son in Finding Nemo, I found myself even more involved with Dory this time around, that's how well done this picture is. And it's why it's unfair to compare it to the first.
Hank, the octopus, steals every scene he's in. He's a great foil for Dory, and their relationship evolves beautifully throughout the film. (We also find out how Dory can speak whale.) I doubt there's room for a third film here -- but if there is, it would have to be Finding Hank. He probably has a great backstory too. It's certainly suggested.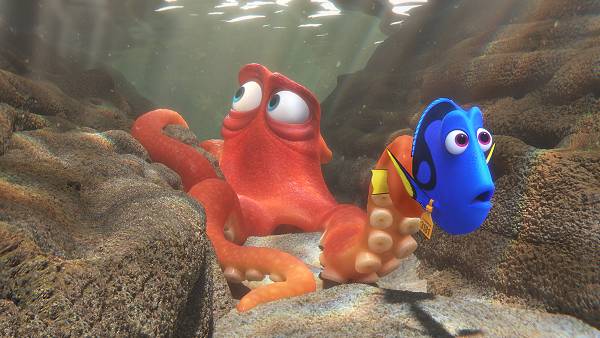 If I must pick a nit, it's the usual one -- Pixar has a bad habit of going a bridge too far, getting slapstick with the ending. This is not just Pixar's fault -- it's something that we're seeing in almost all the animated films. Apparently, the filmmakers don't trust their story enough to let the characters win without first having some big spectacular action climax.
Well, yes -- we want a satisfying climax, but it has to be in context. Go back to the first film -- Toy Story -- and look at how the action climax was small and pertinent to the story. It didn't need to be more -- now compare that with the climax of Toy Story 3, which seemed to be about showing off how many polygons the animators could manage in a single shot, more than resolving the emotional line of the story. (Wall-E is another one that had a great first half that devolved into slapstick in the second half.) The only film that needed the big action climax was The Incredibles, and that was as perfect a superhero film as you could ask for.
Anyway, Finding Dory is a worthy addition to the Pixar catalog, particularly because the character arcs are so strong and so well handled.
by David Gerrold
Australian release 16 Jun 2016
For credits and official site details, see below
Search Festivale for more work by the film-makers below.
See also:

for movie, TV show, or person

Just the facts:

Title: Finding Dory (2016)
Written by: Andrew Stanton (scr)
Directed by: Andrew Stanton & Angus MacLane
Running time: mins
Rating:

---

The Players: Ellen DeGeneres, Albert Brooks,Idris Elba, Kate McKinnon, Michael Sheen, Diane Keaton, Ed O'Neill, Eugene Levy,

---

Official website: http://movies.disney.com.au/finding-dory
IMDb entry

---

For session times of current films, use the cinema listings on the Movie links page. For scheduled release dates, see the coming attractions section.

For more information about this movie, check out the internet movie database (IMDb).
For the latest additions to Festivale, check out the change history section.
For posts about Melbourne events, places, news, reviews, giveaways, see our Facebook Page: