Rialto Towers Observation Deck
A final visit as this landmarks plans to close end-December, 2009
Melbourne's streetscape changes and remains the same, courtesy of the protection of many protected buildings. Since Festivale began in 1996, the Arts Precinct has held its own, the city has a few structural changes except for the Docklands development. It is in the building usage and the street-level shops that has changed.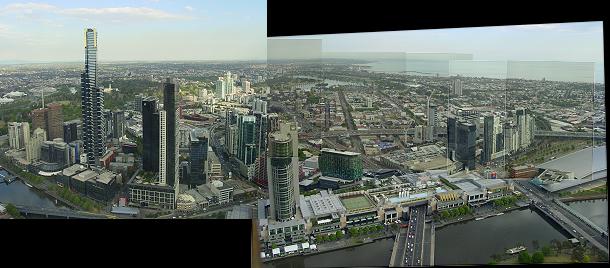 The active seeking of fee-paying overseas students, especially from Asia, and the repurposing of commercial buildings as residential buildings into apartments and bedsitters has changed the hours of Melbourne and seen an agressive invasion by U.S. fast-and-cheap such as MacDonalds (Macca's), KFC and Starbucks.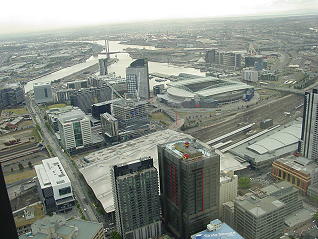 The introduction of Asian fooderies selling such stuff as bubble teas and unfamiliar ice-cream flavours is expected and delightful. It represents a cultural exchange. It's sad that the Australian experience for many Asian students is Burgers and Fries and low-rent coffee.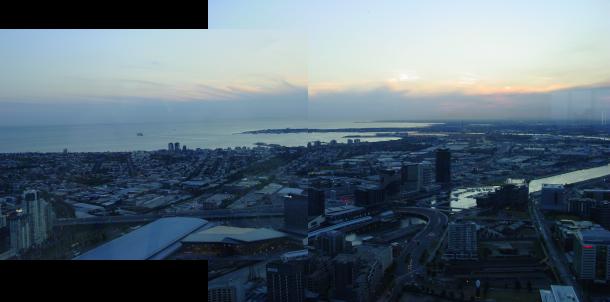 For more pics, see Melbourne at our feet Photostory (1997).

The Rialto Towers Observation Deck is situated in Collins Street between King and William Streets.
525 Collins St, Melbourne,
Trams along Collins St to King St
Rialto Towers web site
Observation Deck CEASED OPERATION 31 DECEMBER 2009
8 October, 2009
It was announced today that the observation deck will close on 31 Dec 2009. The 55th floor will be redeveloped in 2010 for another, undisclosed, purpose.
For posts about Melbourne events, places, news, reviews, giveaways, see our Facebook Page: