Rippon Lea on a Rainy Tuesday
A Visit by Ali Kayn
Rippon Lea is situated in the midst of one of the busy 'mixed-use' areas of Melbourne. A short walk from the train or busy main streets, surrounded by flats and residences and businesses, Rippon Lea's green fences harbour a refuge from modern life.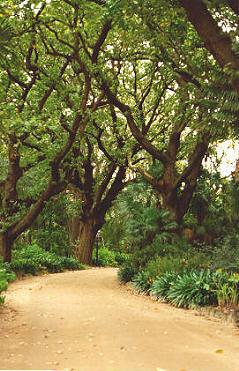 If you're like me, you miss the quiet of the bush, with its fresh smells and bird songs, but can't or won't travel, this is the retreat you have been looking for.
In the past I made a point of visiting the various National Trust properties, but had to do so on busy weekends. It makes sense to go to these places when they are at their sunny 'best'. But what I found on a rainy Tuesday was a peaceful garden, free of tourists and school groups, peopled by the friendly and enthusiastic people who nurture the place.
Rippon Lea was presented to the nation by Mrs Louisa Jones, whose home it was for 63 years.
Mrs Jones and her family fought for ten years to stop compulsory acquisition of 4.2 acres of the gardens (and their features) by the Commonwealth Government for extensions to the adjoining ABC studios. This acquisition in 1963 resulted in a public outcry and a long and presumably frustrating preservation battle waged before the land was finally transferred to the Trust. Sadly Mrs Jones did not live to see her gift become a reality.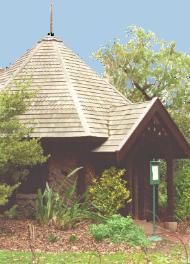 Rippon Lea's pleasure gardens temper elegance with livability. Yes, there are lawns, but the emphasis of the various areas is on creating places for people to be. Rather than feeling like an intruder, the visitor feels anticipated. Whether wandering through the fernery, along the graceful tree-shrouded path, or climb past the succulents to the lookout, one never feels that the garden is too precious to enter.
Rippon Lea's gardens were designed for people. The Archery House, for example, was built to house targets and other equipment for a club who used to meet and practise at Rippon Lea once a fortnight. The bridges that cross the lake and join the islands to the shore are sturdy and invitingly practical. There is no doubt that one is expected to explore further.