---
---
Terry Pratchett
answers the Usual Questions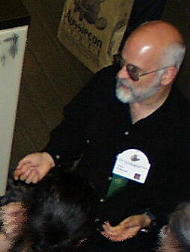 Ali first met Terry Pratchett lurking about a word processing web site. It took a bit for her to realise why his name looked so familiar, but then when you're a data junkie it sometimes takes a while to connect the data dots.
So, is Terry the person as, um, interesting a person, as his writing suggests? Judge for yourselves... Terry Pratchett answered these questions for us when he was interviewed, see our feature
Do you have a favourite author or book (or writer or film or series) that has influenced you or that you return to?
Not a favourite. Videos are piled around the TV, books around the bed. G. K. Chesterton is admired, but there are several dozen authors - Carl Hiassen is a newcomer to the list - that I'll go back and read for pleasure
Who is the person you would most like to be trapped in a lift with? or a spaceship?
In a life? A lift repair man. In a spaceship, anyone who knows how to land the thing. Let's be practical here.
What would you pack for space? (Is there a food, beverage, book, teddy bear, etc that you couldn't do without?)
Practically anything with a QWERTY keyboard. Sad, isn't it?
What is the most important thing you would like to get/achieve from your work?
I genuinely can't answer. I don't get introspective about writing; I've done it one way or another for all of my adult and a lot of my teenage life. There is a satisfaction, but it's a diffuse and wily thing which is never in the place where I'd pin it down. I can't envisage not writing.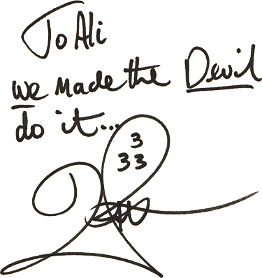 submitted by Ali Kayn
Reproduced from the Science Fiction, Fantasy and Horror Fan Resource Book
© Ali Kayn 1997 All rights reserved

See also: Featured interview
Terry Pratchett Discworld Series
For other answers to The Usual Questions Click here
Just the facts:
Born: 28 April 1948, Beaconsfield U.K.
Died: March 12, 2015, Broad Chalke, U.K.
Bibliography/Awards: see his web site
Web site: www.terrypratchettbooks.com


For posts about Melbourne events, places, news, reviews, giveaways, see our Facebook Page: