---
---
William F. Nolan
answers the Usual Questions
American author William F. Nolan writes science fiction, fantasy and horror as well as a variety of non-fiction.
Nolan is well-known for his novel Logan's Run (with George Clayton Johnson), he is currently writing a fourth Logan novel with Jason V. Brock.
Stephen King has described Nolan as "an expert in the art and science of scaring the hell out of people".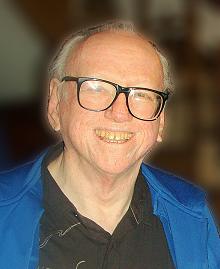 Has your interaction with fans, for example, at conventions, affected your work?
Yes. Their comments help me gain a better perspective on my work. I love hearing the feedback!
Is there any particular incident (a letter, a meeting, a comment that stands out?
There is -- when a lady explained to me that she wanted to write horror, I asked: "Well, what do you like to read?"
She replied, "Stephen King."
I replied: "Great! And who else do you like to read?"
She said, "Why, nobody. Just King!"
After a moment, I told her: "Well, the best you can hope to be is a second-rate Stephen King. If you want to write 'horror' or anything else you must read Poe, Shelley, Campbell, Lovecraft, Beaumont, Shakespeare, Henry James, Hemingway, Bradbury, Faulkner, Blackwood, Serling, and everyone else. Then you can start to write."
She paused and said, "I'd rather just read King!"
I was appalled.
Do you have a favourite author or book (or writer or film or series) that has influenced you or that you return to?
Of course -- the works of Ray Bradbury, and Western writer Max Brand.
Who is the person you would most like to be trapped in a lift with? or a spaceship?
Marilyn Monroe (when she was alive, of course!).
Who is the person you would most DISlike to be trapped in a lift with? Or a spaceship?
Ernest Hemingway -- whom I admire as a writer, but who was a terrible human being.
What would you pack for space? (Is there a food, beverage, book, teddy bear, etc that you couldn't do without?)
Well, as far as food goes it would have to be bread! To beverage, I prefer white wine, Pinot Grigio. Book must be books! I can't pick just one... No Teddy bear -- I would have to take my giant stuffed gorilla, Gideon!
What is the most important thing you would like to get/achieve from your work?
Knowing that it has influenced people. That what I've done matters.
What is the special satisfaction of your work?
See above! :)
submitted by William F. Nolan
21 September 2013
For other answers to The Usual Questions Click here
Just the facts:
Born: Kansas City, MO; March 6th, 1928.
Resides: Vancouver, Washington, USA
Bibliography/Awards:
I have been lucky enough to win many awards. My biblio is extensive. Here is a partial listing:
AWARDS Living Legend in Dark Fantasy by the International Horror Guild in 2002.
Honorary title of Author Emeritus by the Science Fiction and Fantasy Writers of America (SFWA, 2006).
Lifetime Achievement Stoker (2010) award from the Horror Writers Association (HWA).
Many others from honorary degrees to writing awards.

PARTIAL BIBLIOGRAPHY
NOVELS
Logan's Run (1967)
Logan's World (1977) Logan's Search (1980)
Logan: A Trilogy (1986) Logan's Return (2001) Logan's Journey (In Progress; Sequel, with Paul McComas)
Logan's Run (In Progress; An illustrated, limited edition from Centipede Press with extra material; 2013)
Logan Falls (In Progress; Sequel, with Jason V Brock)

ON RAY BRADBURY
Ray Bradbury Review (1952) - Anthology
The Ray Bradbury Index (1953) - Pamphlet
The Ray Bradbury Companion (1975) - Biography/bibliography
The Dandelion Chronicles (1984) - Pamphlet
The Bradbury Chronicles (1991) - Anthology (with Martin H. Greenberg)
Nolan On Bradbury (2013; Hippocampus Press) - Collected Nonfiction Book (Edited by S. T. Joshi)

OTHER NONFICTION
Adventure on Wheels (1959) - John Fitch autobiography
Barney Oldfield (1961) - Biography
Phil Hill: Yankee Champion (1962) - Biography
John Huston: King Rebel (1965) - Biography
Sinners and Supermen (1965) - Nonfiction Collection
Steve McQueen: Star on Wheels (1972) - Biography
Hemingway: Last Days of the Lion (1974) - Biographical Chapbook
McQueen (1984) - Biography
The Black Mask Boys (1985) - Biography/Anthology
How to Write Horror Fiction (1990) - Reference
Let's Get Creative: Writing Fiction That Sells! (2006) - Reference ANTHOLOGIES/COLLECTIONS The Fiend in You (1962)
The Pseudo-People (1965)
Man Against Tomorrow (1965)
Science Fiction Origins (1980) - Anthology (with Martin H. Greenberg)
Urban Horrors (1990) - Anthology (with Martin H. Greenberg)
California Sorcery, Edited by Nolan and William Schafer (1998)
Offbeat (2002) - Collection of Richard Matheson stories
The Bleeding Edge (2009) - Anthology (with Jason V Brock)
The Devil's Coattails (2011) - Anthology (with Jason V Brock)
Web site:
williamfnolan.com
IMDB
ISFDB
FACEBOOK PAGES
PERSONAL FAN PAGE

For posts about Melbourne events, places, news, reviews, giveaways, see our Facebook Page: