A Reel Life film section
Issue: 2009
While You Were Sleeping (1985) movie review
Lucy lives a quiet lonely life with her cat and her job collecting tickets. Every work day she sees a beautiful man in an expensive suit go through the turnstiles, and she loves him.
Her boss gives her the Christmas day shift because she has no-one else, and while she is sitting there a group of youths attack her unknown love interest and knock him on the tracks. She rescues him, and while in the hospital is overheard talking to herself, "I was going to marry him."
Now as the young man, Peter, lies in a coma his large, friendly family have taken her in. She is no longer alone. Even at night she sneaks into the hospital and sits and talks to Peter.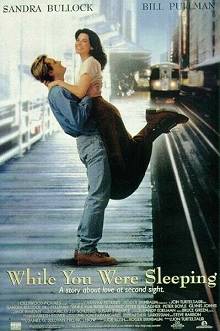 Through a comedy of errors Lucy gets the keys to Peter's apartment, information of a most personal nature, and the answers to the questions of Peter's suspicious brother Jack (Bill Pullman).
This is the ultimate love story, one where a corner of the triangle is asleep while the others discover one another. Lucy tries to extricate herself from the morass of lies and half-truths and yet finds herself tempted to just drift into the life that is suddenly before her. But which is the right life for her? Alone? With the rich and successful brother? Or with the furniture maker?
by Ali Kayn
Due for Australian release 1985
For credits and official site details, see below
Search Festivale for more work by the film-makers below.

See also: The Proposal
Practical Magic, The Net, Miss Congeniality, Miss Congeniality 2, The Lake House, While You Were Sleeping

for movie, TV show, or person

Film commentary and upcoming movie release dates at reel-life.info

Just the facts:

Title: While You Were Sleeping (1985)
Written by: Daniel G. Sullivan & Fredric LeBow
Directed by: Jon Turteltaub
running time: 103 mins
rating: PG

---

The Players: Sandra Bullock, Bill Pullman, Peter Gallagher, Peter Boyle, Jack Warden, Glynis Johns, Micole Mercurio, Ally Walker

---

Official website:
IMDb entry

---

For session times of current films, use the cinema listings on the Movie links page. For scheduled release dates, see the coming attractions section.

For more information about this movie, check out the internet movie database.
For the latest additions to Festivale, check out the change history section.