Tasmania
Apple of Australia Isle
These pages contain resources that we have found useful, and/or links to pages which have requested links. Please let us know if you find these useful.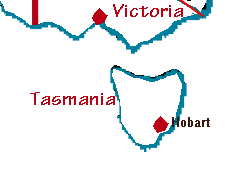 Capital: Hobart (second-oldest city in Australia)
Floral emblem: Tasmanian Blue Gum, Eucalyptus globulus
Mineral: Crocoite
Animal: There are no official Tasmanian animal emblems, although the Tasmanian Devil is unofficially recognised as a symbol of Tasmanian wildlife and the yellow wattlebird is generally acknowledged to be our most identifiable bird.
(source: www.parliament.tas.gov.au)

Tasmania is the smallest state of the Commonwealth of Australia.
It is an island about 250 kilometres (150 miles) south of the state of Victoria, across Bass Strait. Tasmania lies between latitudes 40 degrees and 44 degrees south, and between longitudes 143 degrees and 149 degrees east.
It has many offshore islands, including Macquarie Island, which lies close to the point 54 degrees south, 159 degrees east. It is estimated that Tasmania includes 334 islands.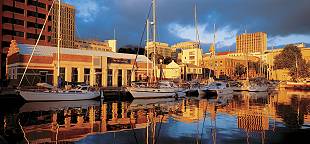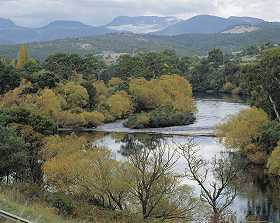 The area of Tasmania is 68,331 square kilometres (26,376 square miles).
Highest mountain -- Mt Ossa 1617 metres
Longest river -- South Esk 201 kilometres
Largest lake -- Lake Gordon 272 square kilometres (artificial)
The island of Tasmania was created approximately 12,000 years ago when the great ice caps melted and the seas rose to separate Tasmania from mainland Australia. Aborigines had been living in the region for over 23,000 years (approximately 35,000 years ago) before their isolation from mainland indigenous communities.
(source: tourismtasmania.com.au)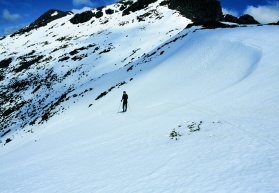 Attractions:
Historical sites such as
Port Arthur
and Constitution Dock
Franklin River, Gordon River
Royal Tasmanian Botanic Gardens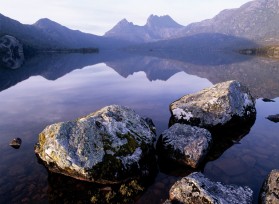 See also:
Discover Tasmania
Info sheet on state emblems
Weather
Australian Climate information from the Bureau of Meteorology
Information about Tasmanian Blue Gum at Australian National Botanic Gardens website
Zoom out to the map of Australia map

Contact: Discover Tasmania
Tasmanian government site