Melbourne Zoo
A Modern Place for Animals
A short tram ride from Melbourne city is the Melbourne Zoo. Located in Royal Park, behind the Royal Children's Hospital, this long-established zoo is home to local and exotic animals and reptiles in conditions as humane as possible.
The movement of modern zoos towards creating natural environments for their inhabitants has resulted in a more pleasant experience for visitors and residents alike. You can wander through an African Rainforest, the steamy Butterfly House, or join the birds in the Great Flight Aviary.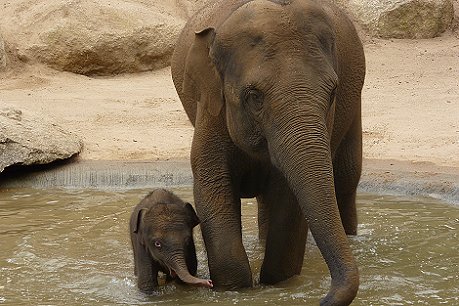 The Melbourne Zoo celebrated it's 134th birthday on October 6, 1996. It is Australia's oldest zoo, and the 11th oldest in the world.
The Melbourne Zoo is a must-see for garden-lovers as well as bear-lovers, and gorilla-lovers and ...
See also:
Royal Park Guidebook Entry
Just the facts:
Contact:

For contact information and opening hours, check the web site: http://www.zoo.org.au/MelbourneZoo
Visit Victoria
Getting there:
Getting there by public transport: Northbound tram 55 or 56 from William Street or, take a 59 or 57 from Elizabeth Street to the Royal Children's Hospital and change to the 55 there.