Melbourne at Your Feet
Views from Rialto Towers (1997)
A collection of panoramas taken by your relentless reporter from the observation deck of the Rialto Towers, Melbourne in 1997. Enjoy the views, and click here to read her story.
These are the daytime shots, the night shots are on page two.
Address and contact details are on our guidebook entry.
Below: Looking towards the south. To the left, across the bridge are Alexandra Gardens, Queen Victoria Gardens, the Kings Domain, and the Botanic Gardens. The large white building is government house. Further away and to the right is Fawkner Park. (Go to map of St Kilda Road precinct)

Across the river from these gardens are the parks that were host to the 1956 Melbourne Olympic Games including the Melbourne Cricket Ground. The riverside area is Southgate, part of the Southbank precinct. It was from the wharf there that we went fairy penguin-hunting one night. Almost obscured by the brown twin towers is the spire of the Arts Centre (Go to map of foreshore and St Kilda).
To the right you can see Albert Park Lake (the Grand Prix circuit), and then the bay.

Above: Looking more to the west, the strange shape in the middle foreground is the Melbourne Exhibition Centre with Port Phillip Bay in the background.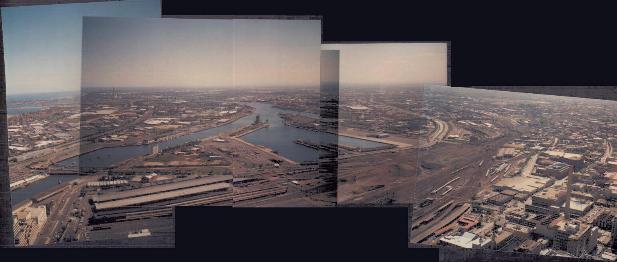 Above: View across the docklands and towards the west. Yes, the Yarra River has been heavily redesigned by humans; so much so that the sea water reaches as far upriver as Collingwood. This area has been extensively redeveloped, see 2009 photos of Melbourne from Rialto.

Back across the city centre. Between the tall buildings to the left is Flagstaff Gardens, further behind them, away from the city centre is Royal Park and the zoo.
Text and photographs by Ali Kayn
525 Collins St, Melbourne,
Trams along Collins St to King St
Rialto Towers web site
Observation Deck CEASED OPERATION 31 DECEMBER 2009
For posts about Melbourne events, places, news, reviews, giveaways, see our Facebook Page: