Western Coastal Bike Trail, Melbourne
...continued
(... previous page)
The trail is a bit confusing here, but working on the assumption that it wouldn't go through the Mobil facility, I managed the turn without getting lost. (Hey, for me this is a major achievement). Further along the coast is Nelson Place. A hotel on the corner is a great orientation point as the trail leaves the water.
The trail along Nelson Place passes naval yards and rapidly becomes a street of shops and, well, food places of various styles and quality on the side opposite the bike path. The pavements outside the shops are lined with tables and at 10 in the morning, were busy with coffee drinkers and breakfasters. There are many types of speciality shops on the street, including a nice New Age shop with crystals, CDs, books and other accoutrement of the alternative lifestyle. Another shop features a collection of golliwogs (not for sale).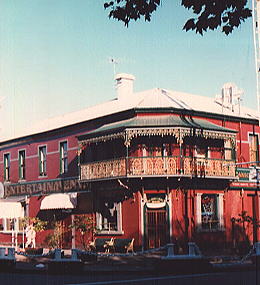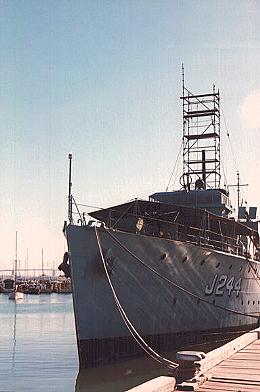 The HMAS Castlemaine is moored here, a marine museum staffed by volunteers. I couldn't talk my way on board, but it is open to the public for a fee (see the Historic Sites list for more information). An even larger mooring anchor is tucked into a corner of Commonwealth Reserve, this time from the HMVS Nelson, once the flagship of the Victorian navy. Yes the state of Victoria once had her own navy.
Nelson Place becomes The Strand, and continues along the river to become Douglas Parade.
The walk from Williamstown beach to Nelson Place (three kilometres) and a well-earned cappuccino took about an hour, including stops for polite conversations with canines.
Below: Melbourne city seen across the bay from Williamstown (August 1998 wallpaper)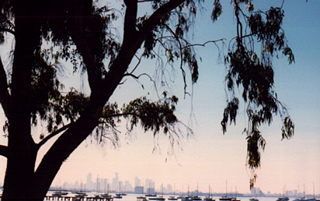 The full trail is ten kilometres, which they estimate can be done by bike in 1.5 hours. Don't quote me, but I think it is seven kilometres between Scienceworks and Williamstown Beach, and ten kilometres from the Maribyrnong River Trail via Hyde Street, Francis Street and Whitehall Street.
Other ways to join the Western Coastal bike trail include taking the punt between Scienceworks and Westgate Park, where you can join the Eastern Coastal Trail, or you can take a ferry between St Kilda Pier and Gem Pier. Scienceworks is a couple of blocks from Spotswood railway station, and the walk between station and museum is well posted (see Scienceworks guidebook entry).
by Ali Kayn