Rippon Lea on a Rainy Tuesday (page 2)
A Visit by Ali Kayn
Walking close to the fences, one can hear the roar of traffic, and noises of heavy machinery, but these are quickly replaced with the sounds of the birdlife. Ducks casually crossed my path near the Western stern Lawn, obviously they too were enjoying the moist conditions. The bird sounds were especially comforting in the fernery, where the smell of moist earth blended with the calls and the subtle trickle of running water.
The fernery is typical of the way that Rippon Lea's features engulf, rather than overwhelm, the visitor. Without realising it, one moves from the fernery out into the general garden. The ferns continue from under the lattice into the garden in an easy progression.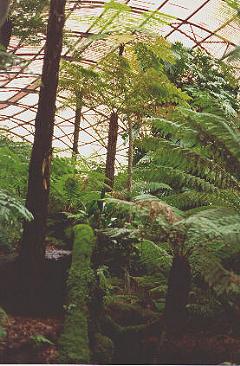 The rose garden was empty when I visited. It is part of the current restoration programme. Richard Heathcote, the property manager of Rippon Lea showed me blow-ups of old photographs which they are using to reconstruct the rose garden. Properties such as Rippon Lea often need old 'snapshots' of the grounds. If you have any old pictures, even with Uncle Fred making faces in the foreground, they could provide useful information.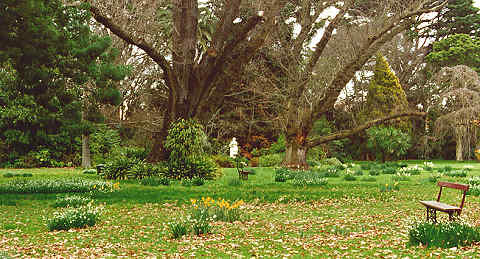 One of the more esoteric historic features of Rippon Lea's gardens is the irrigation system, however for those of us whose interest is not so deep, the orchard, the lake, the rich Western Lawn, and the wonderful plants offer a great deal of enjoyment.
Today's architecture of impermanence makes the buildings of yesterday so much more precious. What we often forget is that the gardens are also an integral part of the life of the occupants. Whether these gardens are exceptional pleasure gardens like those of Rippon Lea, or worker-gardens providing vegetables and herbs, or simple outdoor rooms for the family, gardens too are part of our heritage. The National Trust classifies gardens as well as buildings, and a visit to Rippon Lea, on a rainy day, or fine, is enough to realise how important it is to protect this fragile link to our past.
Rippon Lea facts and figures:
Created by Frederick Thomas Sargood.
Architects: Joseph Reed and Frederick Barnes, Melbourne.
Builder: Thomas Newton.
Original 15-room building was built in the late 1860s.
Extended to 33 rooms by 1887.


For more pictures, see our clickable map
See also: guidebook entry