A Reel Life film section
Issue: Autumn 2010
Undercover Blues (1993) movie review
Justice is a Family Business
You're lucky my wife wasn't here.
The Blues (Kathleen Turner and Dennis Quaid) are just a couple of spies in New Orleans on parental leave with their little girl. When their bosses offer a big cash bonus to have the Blues take one special assignment, they weigh the cost of good colleges and decide to combine a whole-hearted pleasure in life with their determination to make the world a better place.
Their task is complicated by Morty (Stanley Tucci), a local crook whose path they cross with unfortunate consequences to his count of teeth.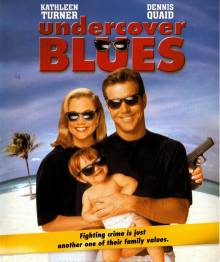 Fighting crime is just another one of their family values.
Turner gets to play a smart, sexy mother who has a wonderful way with weapons and the martial arts. Quaid plays a spy who has worked for just about everyone, and been fired by them. Together they are a hot and effective team.
A fast, fun story in a fast, fun place, Undercover Blues is a great adventure story with comedic touches that don't interfere with the drama of the story.
Watch for the ultimate chick-fight.
by Ali Kayn
Australian release 1993
For credits and official site details, see below
Search Festivale for more work by the film-makers below.

See also:Undercover Blues ; Frequency ; Inner Space; Dragonheart; Playing by Heart

for movie, TV show, or person

Film commentary and upcoming movie release dates at reel-life.info

Just the facts:

Title: Undercover Blues (1993) (1993)
Written by: Ian Abrams
Directed by: Herbert Ross
running time:

---

The Players: Kathleen Turner, Dennis Quaid, Fiona Shaw, Stanley Tucci, Larry Miller, Obba Babatund?, Tom Arnold, Park Overall

---

Official website:
IMDb entry


---

For session times of current films, use the cinema listings on the Movie links page. For scheduled release dates, see the coming attractions section.

For more information about this movie, check out the internet movie database.
For the latest additions to Festivale, check out the change history section.