A Reel Life film section
Issue: Spring 2013
Fallen movie review
I want to tell you about the time I almost died.
When John Hobbes (Denzel Washington) sees a convicted killer put to death he believes he has justly ended a murderous series, but after the execution the murders start up again. Has he put the wrong man in jail, or is something else happening?
Time is on my side.
This film starts out as a moody crime thriller, but quickly takes a step into the supernatural.
When does a cop have to step outside the law to achieve justice? What about saving the world?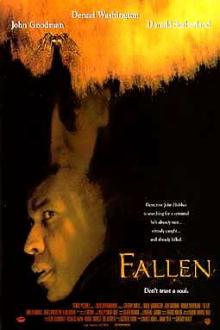 This is a horror film, not gorey, not given to sudden screaming effects, but instead moody, well-paced and scary.
No one is safe.
Some things you should never know. And if you know, you should never, ever tell.
by Ali Kayn
Australian release 19 March 1998
For credits and official site details, see below
Search Festivale for more work by the film-makers below.

See also: Denzel Washington (Inside Man, The Taking of Pelham 123, Heart Condition, John Q, Out of Time, Devil in a Blue Dress, The Hurricane, Remember the Titans, Deja Vu); John Goodman (Always)

for movie, TV show, or person

Film commentary and upcoming movie release dates at reel-life.info

Just the facts:

Title: Fallen (1998)
Written by: Nicholas Kazan
Directed by: Gregory Hoblit
running time: 124 min
rating: M

---

The Players: Denzel Washington, John Goodman, Donald Sutherland, Embeth Davidtz, James Gandolfini

---

Official website:
IMDb entry


---

For session times of current films, use the cinema listings on the Movie links page. For scheduled release dates, see the coming attractions section.

For more information about this movie, check out the internet movie database.
For the latest additions to Festivale, check out the change history section.