A Reel Life film section
Issue: Winter 2003
Romancing the Stone (1984) movie review
Joan Wilder (Kathleen Turner) is a mousy romance novelist living in New York. When she receives a mysterious package from her recently-late brother-in-law, and an urgent phone call from her sister, she hurries in her designer suit and shoes down to Colombia -- where her books do very well in the macho climate. She meets and hires for a guide Colton (Michael Douglas) and the two join together against corrupt officials and other criminals (Danny DeVito) to rescue her sister and save the day.
When the going gets tough, the tough get going.
A highly successful song launched the successful media campaign for this film. The music is very 1980s -- fun, with a beat to dance to.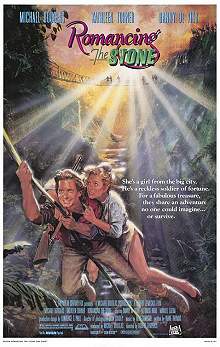 The film is full of situational humour, the actors and scripters are not making jokes, they are finding the humour and the fun as Joan comes to grips with her jungle adventure, and her companion.
Joan discovers self-confidence and love in her adventure, going from "a hopeless romantic" to a "hopeful romantic". A timeless piece of adventurous romantic comedy, fast-paced and well-performed. Recommended as is the sequel .
by Ali Kayn
Australian release 5 July 1984
For credits and official site details, see below
Search Festivale for more work by the film-makers below.

See also: Jewel of the Nile ; Undercover Blues

for movie, TV show, or person

Film commentary and upcoming movie release dates at reel-life.info

Just the facts:

Title: Romancing the Stone (1984) (1984)
Written by: Diane Thomas (scr) Lem Dobbs uncredited Howard Franklin uncredited Treva Silverman uncredited
Directed by: Robert Zemeckis
running time: 106 mins
rating: M

---

The Players: Michael Douglas, Kathleen Turner, Danny DeVito, Holland Taylor, Mary Ellen Trainor

---

Official website:
IMDb entry

---

For session times of current films, use the cinema listings on the Movie links page. For scheduled release dates, see the coming attractions section.

For more information about this movie, check out the internet movie database.
For the latest additions to Festivale, check out the change history section.