A Reel Life film section
Issue: Winter 2003
The Jewel of the Nile (1985) movie review
Joan Wilder (Kathleen Turner) and Jack Colton (Michael Douglas) have been on their romantic boat for a year now and the days are starting to blur together. Joan can't seem to finish her novel, but she is fascinated by a powerful African leader who asks her to come to his home and write his biography. Meanwhile, Jack teams up with their old adversary (Danny DeVito) to join her on his way to finding the "Jewel of the Nile".
Set in the fantastic adventuring world of Romancing the Stone, The Jewel of the Nile looks at the "happy ever after" of an adventure. For Joan and Jack romance has become everyday and not special. Their affair is lost in the humdrum of life, even if their life is aboard a boat in the Mediterrean Sea.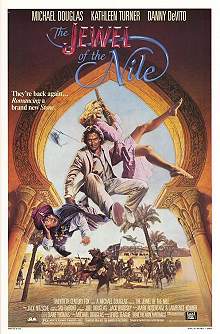 In the same vein as it's predecessor, The Jewel of the Nile is a light adventurous romantic comedy. The characters must overcome their nemesis and their own weaknesses and misunderstandings to achieve their happy ending. Great fun.
by Ali Kayn
Australian release 1985
For credits and official site details, see below
Search Festivale for more work by the film-makers below.

See also: Romancing the Stone ; Undercover Blues

for movie, TV show, or person

Film commentary and upcoming movie release dates at reel-life.info

Just the facts:

Title: The Jewel of the Nile (1985) (1985)
Written by: Mark Rosenthal & Lawrence Konner, Diane Thomas (characters)
Directed by: Lewis Teague
running time: 106 mins
rating: PG

---

The Players: Michael Douglas, Kathleen Turner, Danny DeVito, Holland Taylor

---

Official website:
IMDb entry

---

For session times of current films, use the cinema listings on the Movie links page. For scheduled release dates, see the coming attractions section.

For more information about this movie, check out the internet movie database.
For the latest additions to Festivale, check out the change history section.