A Reel Life film section
Issue: Winter 2008
Hellboy and the Golden Army movie review
Big Red Returns to Save Another Day
H.B. is back. The superhero with the soul of a working man leads his team of oddballs into the underworld to fight an army of indestructible warriors.
A direct sequel to Hellboy, The Golden Army reunites most of the original team including writer/director Del Toro, Ron Perlman as Hellboy and Selma Blair as his pyrokenetic love.
The course of love and war not running smoothly, H.B. and the team are revealed to the general public and immediately face a negative storm. A new leader is introduced and combatting evil must be fitted in between a rocky relationship and the struggle against authority.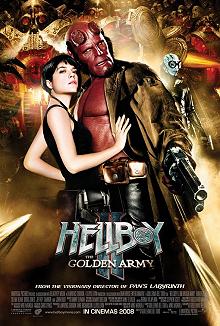 Saving the world is a hell of a job
Fun, fast paced and undemanding, if you liked Hellboy, The Golden Army will give you a couple of hours of undemanding entertainment.
by Ali Kayn
Due for Australian release 28 August 2008
For credits and official site details, see below
Search Festivale for more work by the film-makers below.

See also:

for movie, TV show, or person

Film commentary and upcoming movie release dates at reel-life.info

Just the facts:

Title: Hellboy and the Golden Army (2008)
Written by: Guillermo del Toro
Directed by: Guillermo del Toro
running time:

---

The Players: Selma Blair, Ron Perlman, Jeffrey Tambour

---

Official website: Official site
IMDB: IMDB
IMDb entry

---

For session times of current films, use the cinema listings on the Movie links page. For scheduled release dates, see the coming attractions section.

For more information about this movie, check out the internet movie database.
For the latest additions to Festivale, check out the change history section.