A Reel Life film section
Issue: 2004
Hellboy movie review
From the pages of the Hellboy comic, he rises, real red and real redneck and really ready to rough up the bad guys.
With great attention to detail and respect for the original material, Guillermo del Toro brings to the screen the most reverently irreverent superhero.
Del Toro begins with the discovery of the mysterious red demon child by a group battling the supernatural machinations of Hitler's followers and cuts to a modern day post-adolescent who files off his horns and fills his life with cats and copious amounts of food.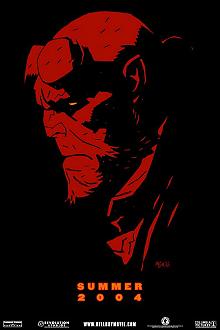 Del Toro's Hellboy (Ron Perlman) has a lady love, a firestarter (Selma Blair), who is brought back into the fold by wide-eyed F.B.I. agent (Rupert Evans).
Together with Abe Sapien (Doug Jones), and under the watchful eye of father figure Prof Bruttenhold (John Hurt), Hellboy (a.k.a. Big Red) battles the forces of darkness and the eager eyes of the media and public from the anomymity of a fake garbage truck.
Laden as it is with special effects, Hellboy still rises above the average superhero movie with flawed and engaging characters, a love triangle, moderate, well-performed angst and a good dose of humour.
The result is watchable fun that is worth returning to, and which promises more fun in the future hopefully with del Toro at the helm.