A Reel Life film section
Autumn 2009
Inkheart movie review
Mo 'Silvertongue' Folchart (Brendan Fraser) is a single dad, a talented repairer of books who is travelling around Europe with his young daughter in an old van.
In every old bookstore he searches for a single title: Inkheart. As he moves among the bookshelves he hears the books whispering to him, until he opens the pages of a copy of Inkheart. When he opens the book, characters from it appear in our world and we discover that he has a wondrous power.
Silvertongue can make real in our world the people and objects from fiction.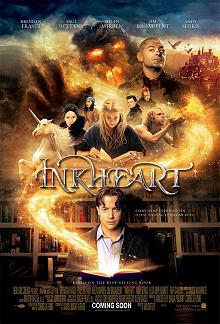 Every story ever written is just waiting to become real.
Set in the remote mountain areas of Europe Inkheart is a beautifully-produced fantasy, aimed at the young, but pleasurable for all ages. Performed with verve and conviction by a solid cast including Helen Mirren, Paul Bettany and Jim Broadbent.
Special effects support the story, the fate of the characters is most important, and the result is and exciting adventures by multi-dimensional characters we can care about.
by Ali Kayn
Due for Australian release 2 Apr 2009
For credits and official site details, see below
Search Festivale for more work by the film-makers below.

See also: The Neverending Story
Brendan Fraser also appears in The Mummy, Blast from the Past, George of the Jungle, Bedazzled,

for movie, TV show, or person

Film commentary and upcoming movie release dates at reel-life.info

Just the facts:

Title: Inkheart (2008)
Written by: David Lindsay-Abaire (screenplay) Cornelia Funke (novel)
Directed by: Iain Softley
running time:

---

The Players: Brendan Fraser, Helen Mirren, Paul Bettany, Jennifer Connelly, Jim Broadbent

---

Official website:
IMDB: entry

---

For session times of current films, use the cinema listings on the Movie links page. For scheduled release dates, see the coming attractions section.

For more information about this movie, check out the internet movie database.
For the latest additions to Festivale, check out the change history section.