A Reel Life film section
Issue: 2009
Ghosts of Girlfriends Past (2009) movie review
Love as a Crime

Okay, I get it.
In a fresh new look at an old favourite, Ghosts of Girlfriends Past is inspired by Charles Dickens' A Christmas Carol. Connor Mead (Matthew McConaughey) is a photographer specialising is hit-and-run sex who arrives at his playboy late-uncle's house the night before his brother's wedding only to find himself confronted by his dead uncle and the three ghosts of girlfriends past.
Love ... you hoard it, like a miser.
Is Connor Mead redeemable? Will a look back at all the women make him re-evaluate his lifestyle? Were the lessons of his uncle words of wisdom, or pearls of swine?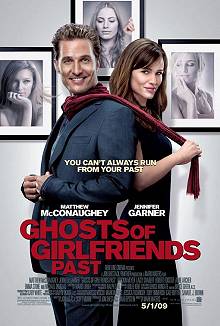 Sweetie you are already gorgeous. Why do you need to be good at two things?
Played for laughs and heart, this is a romantic comedy that is unafraid of its subject matter. Michael Douglas as the rou? come back to help undo his damage is delightfully seedy. Emma Stone as the 16-year-old ghost of girlfriends past is unabashedly '80s and loving it. Jennifer Garner plays the true love of Mead's life with great directness and the supporting cast all throw themselves into their parts. Especially the world's most straightforward bridesmaids.
Funny and heart-felt. Altogether a nice way to spend time.
H.U.A. Heard. Understood. Acknowledged.
by Ali Kayn
Due for Australian release 7 May 2009
For credits and official site details, see below
Search Festivale for more work by the film-makers below.

See also: Matthew McConaughey (Sahara, Mud, Ghosts of Girlfriends Past, How to Lose a Guy in 10 Days, Edtv, Amistad, Contact, The Newton Boys)

for movie, TV show, or person

Film commentary and upcoming movie release dates at reel-life.info

Just the facts:

Title: Ghosts of Girlfriends Past (2009)
Written by: Jon Lucas & Scott Moore
Directed by: Mark Waters
Running time: 100 mins
Rating: M

---

The Players: Matthew McConaughey, Jennifer Garner, Michael Douglas, Emma Stone, Anne Archer,

---

Official website:
IMDb entry

---

For session times of current films, use the cinema listings on the Movie links page. For scheduled release dates, see the coming attractions section.

For more information about this movie, check out the internet movie database.
For the latest additions to Festivale, check out the change history section.