A Reel Life film section
Issue: 2003
How to Lose a Guy in 10 Days movie review
Andie Anderson and Benjamin Barry each have a secret. Due to the machinations of two of his co-workers they are working at cross purposes, each to win a bet that will change the paths of their careers.
Andie is writing an article for the women's magazine she works for -- How to Lose a Guy in 10 Days -- a chronicle of how great women lose men by their behaviours.
Meanwhile, Barry has bet his boss he can make any woman fall in love with him in 10 days, and his gorgeous co-workers and competitors for a diamond advertising account manipulate him into choosing Andie from all the women in the bar that night.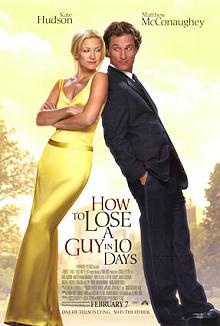 So there we have it. She's determined to freak him out of the relationship with baby names and clinging and Celine Dion and he's equally determined to charm her despite her multiple personalities.
- Are you as nice as you seem?
- No.
It's an unlikely New York love story, told with witty characters and painful truths about the relationships between men and women.
Only one of them can win their respective bets. But will winning the bet mean losing a chance at love. It's fun, it's a modern romantic comedy, and it's filled with characters who make the time pass interestingly. A feel-good movie that tells a bit of truth along the way.
by Ali Kayn
Due for Australian release 24 April 2003
For credits and official site details, see below
Search Festivale for more work by the film-makers below.

See also: Donald Petrie (How to Lose a Guy in 10 Days, Miss Congeniality, The Associate, Mystic Pizza, My Life in Ruins); Matthew McConaughey (Sahara, Mud, Ghosts of Girlfriends Past, How to Lose a Guy in 10 Days, Edtv, Amistad, Contact, The Newton Boys)

for movie, TV show, or person

Film commentary and upcoming movie release dates at reel-life.info

Just the facts:

Title: How to Lose a Guy in 10 Days (2003)
Written by: Michele Alexander and Jeannie Long(book); Kristen Buckley & Brian Regan and Burr Steers (screenplay)
Directed by: Donald Petrie
running time: 116 min
rating: PG

---

The Players: Kate Hudson, Matthew McConaughey, Kathryn Hahn, Annie Parisse, Adam Goldberg, Thomas Lennon, Michael Michele, Shalom Harlow, Bebe Neuwirth

---

Official website: Paramount
IMDb entry

---

For session times of current films, use the cinema listings on the Movie links page. For scheduled release dates, see the coming attractions section.

For more information about this movie, check out the internet movie database.
For the latest additions to Festivale, check out the change history section.