A Reel Life film section
Issue: Winter 2009
My Life in Ruins (2009) movie review
My Big Fat Trip Through History

Georgia (My Big Fat Greek Wedding's Nia Vardalos) has serious qualifications for introducing Greek history to her listeners. Unfortunately her listeners are bus-going tourists of the stereotypic kind. She wants to show them the majesty of Greece gone by. They want ice cream and cheap souvenirs.
Georgia wants to get a better job, a serious academic job, her boss and her rival tour guide want her out. So begins the trip of a lifetime. First, she is assigned Poupi, the hairiest driver in the known universe, then her air conditioning stops working -- her rival guide is determined to see that this tour is her last.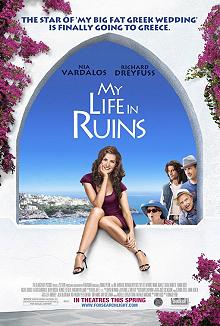 Meanwhile she has to deal with tourists who seem determined to frustrate her intentions to improve their understanding of Greece. But slowly, under the influence of Irv (Richard Dreyfuss) and Poupi (Alexis Georgoulis), she learns to relax, and in doing so, she begins to bond with her tour group.

Writer Mike Reiss is a veteran of bus tours and draws his characters from rich experience. Nia Vardalos and Richard Dreyfuss do a nice job playing roles that could all too easily have become cliched, and Donald Petrie at the helm does his usual excellent job. The movie is well-paced and witty with likeable villains to make the trip more interesting.
Unchallenging, but a good time.
by Ali Kayn
Australian release 16 July 2009
For credits and official site details, see below
Search Festivale for more work by the film-makers below.

See also: Donald Petrie (How to Lose a Guy in 10 Days, Miss Congeniality, The Associate, Mystic Pizza); Nia Vardalos (My Big Fat Greek Wedding, I Hate Valentine's Day)

for movie, TV show, or person

Film commentary and upcoming movie release dates at reel-life.info

Just the facts:

Title: My Life in Ruins (2009)
Written by: Mike Reiss
Directed by: Donald Petrie
Running time: 95 mins
Rating: PG

---

The Players: Nia Vardalos, Richard Dreyfuss, Alexis Georgoulis, Ian Ogilvy,

---

Official website: http://www.foxsearchlight.com/mylifeinruins/
IMDb entry

---

For session times of current films, use the cinema listings on the Movie links page. For scheduled release dates, see the coming attractions section.

For more information about this movie, check out the internet movie database.
For the latest additions to Festivale, check out the change history section.