A Reel Life film section
Issue: Winter, 2009
I Hate Valentine's Day (2009) movie review
Romance vs Love -- Avoiding The Big Hurt

Genevieve (Nia Vardalos) has it all worked out. From her ruling position as purveyer of floral romance she delivers her vision of dating-for-romance. The most basic rules are 1. Only five dates 2. Obey her expectations of romance 3. Don't get hurt. These commandments are inspired by watching her mother cry over her now-estranged father's infidelities.
It all works wonderfully until there's a mix up and she thinks there has been four (great) dates, and he that there have been five. Suddenly the pressure to pitch woo is on the other foot and ladies, it doesn't look easy.
Ms Vardalos writes, directs and performs the female lead in I Hate Valentine's Day. She rejoins actor John Corbett who played opposite her so well in another of her scripts, My Big Fat Greek Wedding.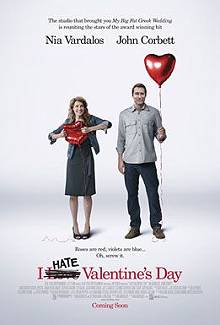 While this reviewer is often impressed by the results from the unified vision of a single writer/director (or writing/directing team), Vardolos discovers the pitfalls of directing oneself.
There are lines, especially in the first half of the film, that she delivers with a wide-eyed lack of focus that comes from tilting the head to meet an eyeline, but not focussing at the correct distance. A director would see this, the cinematographer SHOULD have seen this. The result is, frankly, a bit creepy-looking and makes the lines flop badly.
I Hate Valentine's Day is a solid, if uninspired, story. Girl meets boy, girl loses boy, girl realises ...
We, the audience, know that no-one as certain of her views of love and romance as Genevieve is can be allowed to navigate a film unscathed. She must have her comeupance.
When Vardalos is not mis-delivering her lines -- and she is relatively good in the role, the film chugs along nicely. It's a rocky "B" film. Fine if you're looking for something light to pass the time, but not living up to its potential -- and the script is a "B" at best.
by Ali Kayn
Due for Australian release 2009
For credits and official site details, see below
Search Festivale for more work by the film-makers below.

See also: Nia Vardalos (My Big Fat Greek Wedding, My Life in Ruins

for movie, TV show, or person

Film commentary and upcoming movie release dates at reel-life.info

Just the facts:

Title: I Hate Valentine's Day (2009)
Written by: Writing credits (WGA) Nia Vardalos (screenplay) Nia Vardalos (story) and Stephen David (story) & Ben Zook (story)
Directed by: Nia Vardalos
Running time: 98 mins
Rating:

---

The Players: Nia Vardalos, John Corbett

---

Official website:
IMDb entry

---

For session times of current films, use the cinema listings on the Movie links page. For scheduled release dates, see the coming attractions section.

For more information about this movie, check out the internet movie database.
For the latest additions to Festivale, check out the change history section.