Albert Park
Once Around the Park (with shortcuts)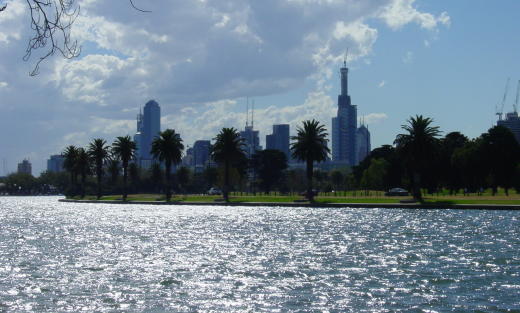 Despite what you may have heard, Melbourne does supply us with some gloriously sunny days. Okay, I personally would rather stay in bed until nightfall and the creatures of the nightlife take over, but for you this dedicated reported and her trusted sidekick Richard (Hryckiewicz, whose photos appear in Festivale also), braved the heat and healthy exercise to circumnavigate Albert Park Lake.
Yes, the lake. Beautiful setting for sailboats, happy park side where kiddies can play on the swings and feed the ducks and swans and assorted other feathered friends. A dogs-if-on-leash park where the surrounding walking track is marked in 500 metre intervals for the lycra-clad runners.
Albert Park lake has island refuges for the bird life, easy public transport access, and that special inner city quiet that has an underlying traffic hum, just enough to remind one that civilisation (and cappuccino and bookshops) is not far away.