Enterprize Park
Enterprize Landing Memorial.
This small riverside park is named after after the schooner of the same name. The park lies on the reclaimed land of what was once the turning basin for shipping.
The park under and between next to Queen's Bridge.
A 20m flagpole is part of a permanent monument marking Melbourne Foundation Day, the day Melbourne was settled by Europeans in 1835. It is one of two places the City of Melbourne flag can be seen -- the other is atop Melbourne Town Hall.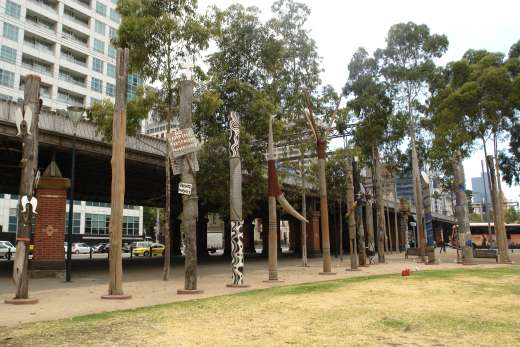 Five statues reminiscent of ship's figures staring out accross the Yarra River.
The Birthday of European Settlement
Melbourne was founded on Sunday, August 30, 1835, by the settlers who arrived the previous day on the schooner Enterprize. Although the government objected to the colony of would-be sheep graziers they could not be stopped. They landed on the north bank of the Yarra River, close to where the Immigration Museum stands today, the site of Enterprize Park. Before the river was modified to its present form a small waterfall, or rapids, stopped further progress up the river. The waterfall also separated the tidal movement from fresh water at that site.
Today sea water travels upriver past to the inner suburbs.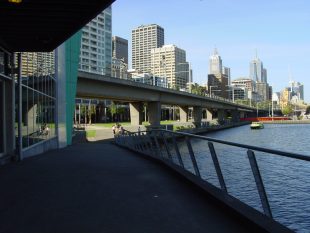 Rewriting History
The council has also sought to rectify historical discrepancies in monuments across the city.
A John Batman memorial that stood on the footpath outside the Old Customs House (Immigration Museum) in Flinders St and carried the often-misquoted words "this will be the place for a village" was one of the first to go.