---
---
Melbourne Park
Sports and Entertainment Complex
Victoria, Australia
The renamed Flinders Park was converted from a collection of public playing fields to become the National Tennis Centre, with a charter to act as a public entertainment and recreation area featuring so-called multi-purpose venues.
Visitors are warned that our staff member was hit TWICE by Kia courtesy cars going through stop signs and otherwise ignoring safety rules while on the premises during the Australian Open.
The Melbourne Park and Olympic Park sites are believed to be haunted. A female ghost has been seen in the function centre, a man walks the eastern courts, and there are supposedly ghost dogs at Olympic Park which was once the site of a greyhound track.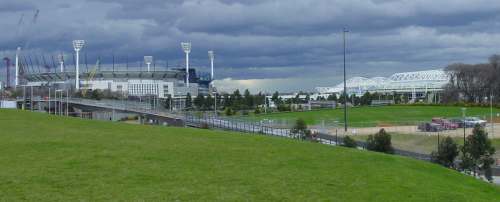 The original venue, Rod Laver Arena (RLA) features a sliding roof over centre court for tournaments, hosts the Australian Open Tennis Championships. Seats 15,000 when configured for in-the-round tennis. Also used for concerts and other events. Practice courts and show courts available for hire, including one clay court.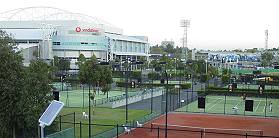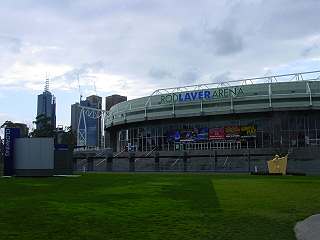 Hisense (previously Vodafone) Arena features a sliding roof over a velodrome (bicycle race track). Seats 4,000 as a velodrome, 10,000 when the fly-away seating sections are in place.
The sliding roof over RLA takes 25 minutes to open, the newer Hisense roof slides open in 10 minutes.
Tours of RLA are conducted Wednesday to Friday between April and November, booking essential, subject to availability of the centre court and auditorium. A viewing area in the centre court / main auditorium is open between 9 a.m and 5 p.m. Monday to Friday, subject to private hirings. Go to door 4 in the foyer. Admission is free.
5th April 2016 Rod Laver Arena undergoing $700 million major upgrade of Melbourne Park. The $338 million Stage Two project will include a major refurbishment of Rod Laver Arena, a media centre, and a new footbridge (Batman Avenue Bridge) linking Birrarung Marr and Melbourne Park. Demolition of Rod Laver Arena's front steps have begun, paving the way for the newly-designed southern annex, and expanded loading bay.
See the Melbourne Park web site Administered by Melbourne and Olympic Parks Trust (see also Olympic Park).
For a panorama which includes this park, click here.
Just the facts:
Melbourne Park
National Tennis Centre (renamed to Rod Laver Arena [RLA] after a tennis player who no longer lives in Australia), Hisense Arena (previously Vodafone Arena [VA]), Old Scotch Oval (renamed to The Oval - sigh), Old Xaverians Oval. Renamed from Flinders Park by Jeff Kennett ('nother sigh).
Previously known as Flinders Park.
Contact details:

For opening hours and contact details see the Melbourne Park Function Centre web site or Melbourne and Olympic Parks Trust web site)
Melbourne Park, 1 Batman Avenue, Melbourne.
Tram 70 from Flinders Street, or train to Jolimont Station and cross Yarra Park and footbridge, or train to Richmond Station and walk or tram towards the city along Swan St.
For posts about Melbourne events, places, news, reviews, giveaways, see our Facebook Page: