Olympic Park
Part of the Riverside Sports and Entertainment Complex
Once a greyhound track (and rumoured to be haunted by three greyhounds), and one of the venues for the 1956 Olympic games, this park is a popular training site for football sports and athletics.
Sports venue home to the sports teams Melbourne Storm (Rugby), Melbourne Victory (Soccer) and Collingwood (AFL).
Administered by Melbourne and Olympic Parks Trust (see also Melbourne Park).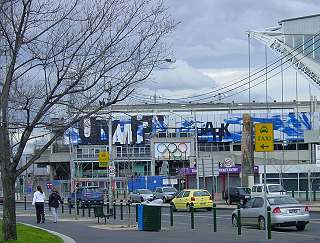 For a panorama which includes this park, click here.
Just the facts:
Contact:

See the Melbourne Park web site ( www.mopt.com.au)
Visit Victoria
Getting there:
Melbourne Park, 1 Batman Avenue, Melbourne.
Tram 70 from Flinders Street, or train to Jolimont Station and cross Yarra Park and footbridge, or train to Richmond Station and walk or tram towards the city along Swan St.