Pirianda,
on the Mount Dandenong Tourist Road
Pirianda is one of the many historic gardens cared for by the Parks and Waterways people. This one has a medical health warning, and trust us, it is worth heeding.
Pirianda is STEEP. Bloody steep. Really, really, really, steep. Have we emphasised it enough?
We went in the autumn, and as you can see the colours are magnificent. But it's a steep drop down and even steeper winding your way back up again.
There is a fern gully, and lots of different trees, marked for your information, and a small meeting place for anyone who wants an out-of-the way, but pretty place for a quiet conference. But it's a steep way down.
Take a picnic lunch, there's no food down there.
Pirianda - very nice, but steep (did I mention that?)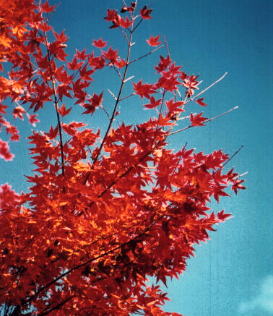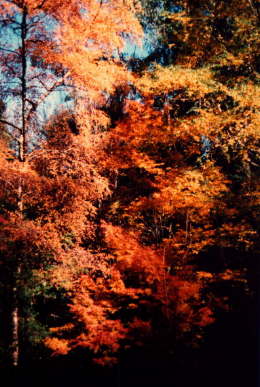 Reader's Story
Hi, I have been looking through the photo story of the parks and gardens and would like to tell you of a place I discovered when last in Melbourne.
Being from a very dry city in South Australia I was taken with how beautiful this drive was. A friend and I, spent a whole day in the Pirianda Gardens, not sure where it is exactly but it was not far from a place called Emerald. How apt a name for a place that was so green. Along the way are a number of garden shops so for those who love to stop every now and then this is a perfect drive.
The gardens are full of hydrangeas, and on an overcast drizzly day you can walk under the canopies forever.
Readers visit:
A gazebo makes its stately mark and provides a great sheltered spot for a picnic lunch. There is plenty of bird life, we even came close to meeting an owl. It was just the most delightfully nostalgic place.
I would love for it to be featured in your photo story and I would encourage everyone to visit it at least once. Thanks for listening to my story, hope it can help you. - Sheryl Wood
See also: William Rickett's Sanctuary entry
William Rickett's Visit
National Rhododendron Garden entry
Dandenongs Parks and Gardens list
Victorian Parks and Gardens list
Entry is free (so the price isn't steep - the editor).
Just the facts:
Contact:
Visit Victoria
Getting there: