Melbourne Museum
Children's Museum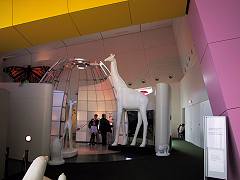 Children at well catered for at the Melbourne Museum, they have indoor and outdoor play areas with a variety of games and objects.
In the children's museum, the roof soars above at odd angles. Spot lights intermittently create images on the white ceiling. There are displays at child eye-height.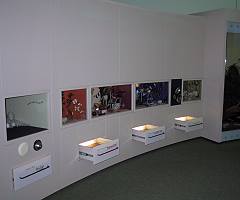 Displays are placed in portholes in the floor, and in drawers. Large buttons play audio, and there are occasional cushioned benches in alcoves for kids to read or listen to material.

Go to previous page
(Rain Forest Atrium)
,
the building part 1
,
part 2
see also: Guidebook entry for Melbourne Museum