A Reel Life film section
Issue: Autumn, 2010
Irreconcilable Differences (1984) movie review
Mommie Dearest, Daddy Darling

When Albert Brodsky (Ryan O'Neal) met Lucy Van Patten (Shelley Long) it was a rainy day. She was driving her fiancé's car across country and he was hitchhiking to his new job at UCLA film school. She wanted to write children's books and he was passionate about film.
Years later he is networking in the film industry by calling in guest lecturers and she is raising their child and studying at real estate school. When a movie producer offers Albert a chance to direct if he can fix a film script, Albert declares that this is what he came to L.A. for.
But Albert can't write the script. It's not working until Lucy starts working on it. Together they write a hit movie, but he gets all the credit and what little acknowledgement he gives her is patronising and understated.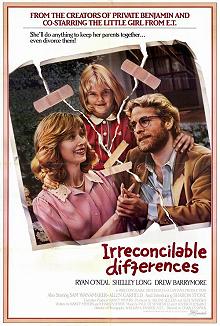 The next movie introduces a young actress they discovered (Sharon Stone). Their daughter Casey (Drew Barrymore) is speaking Spanish learned from the housekeeper, the actress is far too interested in Albert, and Albert is far too interested in Albert. They have irreconcilable differences.
The fights, the divorce, the demands for sympathy and attention from her parents become too much for Casey and she sues for child emancipation.
Irreconcilable Differences is a story about the conflicts that split a family apart. It has a few choice things to say about the Hollywood machine, it draws wonderful portraits, including Sharon Stone as Blake Chandler, the narcissistic actress with great breasts and no singing talent. It is filled with details that ring true from the lives of everyone. While the plot is about the break-up of a family, the story is about what makes a family and what it takes to hold one together.
Amusing, interesting and thoughtful -- a great combination.
by Ali Kayn
Australian release 14 March 1985
For credits and official site details, see below
Search Festivale for more work by the film-makers below.

See also: Nancy Meyers (Something's Gotta Give, It's Complicated, The Holiday, Baby Boom, Jumpin' Jack Flash, Irreconcilable Differences, Private Benjamin, What Women Want); Shelley Long (Hello Again, Cheers)

for movie, TV show, or person

Film commentary and upcoming movie release dates at reel-life.info

Just the facts:

Title: Irreconcilable Differences (1984)
Written by: Nancy Meyers & Charles Shyer
Directed by: Charles Shyer
Running time: 113 mins
Rating: PG

---

The Players: Ryan O'Neal, Shelly Long, Drew Barrymore

---

Official website:
IMDb entry

---

For session times of current films, use the cinema listings on the Movie links page. For scheduled release dates, see the coming attractions section.

For more information about this movie, check out the internet movie database.
For the latest additions to Festivale, check out the change history section.