A Reel Life film section
Issue: 2010
Jumpin' Jack Flash (1986) movie review
Everywoman to the Rescue

Terri (Whoopi Goldberg) is a drone in the data processing cattle pen of a large international bank. Her cheeky attitude stands in the way of her promotion despite her popularity with the rest of the team and her super-human proficiency with computer technology. And then suddenly, one night, she discovers that a British spy has been monitoring her online chit-chat and, as he thinks she is a man, is asked to help get him the exit strategy needed to rescue him from the cold.
Jumpin' Jack Flash is a fast, funny take on the classic civilian-rescuing-a-spy movie. Terri is idiosyncratic on her best days, but drug her and put her in the way of spies, counter-spies and British dignitaries and it's bare-faced comedy.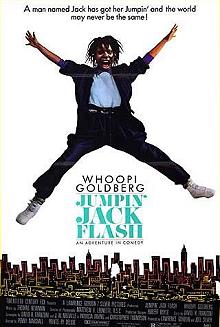 Well-written, with a comedy that is carried on an incredible tale of computer-based espionage, ably and enthusiastically performed, Jumpin' Jack Flash is an excellent example of what can be done by a strong writing team and a strong cast.
by Ali Kayn
Australian release 1986
For credits and official site details, see below
Search Festivale for more work by the film-makers below.

See also: Nancy Meyers also wrote Something's Gotta Give ; It's Complicated ; The Holiday ; The Parent Trap; Father of the Bride II; Father of the Bride; Jumpin' Jack Flash(as Patricia Irving); Baby Boom ; Irreconcilable Differences ; Private Benjamin

for movie, TV show, or person

Film commentary and upcoming movie release dates at reel-life.info

Just the facts:

Title: Jumpin' Jack Flash (1986)
Written by: David Franzoni (story & screenplay) (as David H. Franzoni) and Charles Shyer (screenplay) (as J.W. Melville) & Nancy Meyers (screenplay) (as Patricia Irving) and Chris Thompson (screenplay)
Directed by: Penny Marshall
Running time: 100 mins
Rating:

---

The Players: Whoopi Goldberg, Stephen Collins , John Wood , Carol Kane , Annie Potts

---

Official website:
IMDb entry

---

For session times of current films, use the cinema listings on the Movie links page. For scheduled release dates, see the coming attractions section.

For more information about this movie, check out the internet movie database.
For the latest additions to Festivale, check out the change history section.