Autumn (Mar-May) 2014
Food for Film
Food could be used as a metaphor, I guess. We eat from necessity, for pleasure, to compensate for loss, to share a rite, to participate in that ancient of communal activities: 'the breaking of bread'. That's a lot of opportunities for storytellers (and film-makers should be story-tellers) to develop their themes.
Watching people prepare and eat food can be fascinating. On the other hand it can just plain make one hungry. Simply Irresistible sent me directly into a little restaurant for steak, shoestring potatoes, and the first of several chocolate souffles.
In Simply Irresistible Sarah Michelle Gellar is an unsuccessful cook who becomes inspired and puts what she is feeling into her food. It's a delightful, fun, fantasy romance with Patricia Clarkson almost stealing the show whenever she appears on screen.
The newly-released film Chef takes us on a road trip of American regional cooking. Chef Carl Casper (Jon Favreau) teaches his son about life through food, and we get the sense that he, Casper, lives his life through food, instead of through his family and his friends. Chef is an attractive male bonding film where a man learns that there is more to life than cooking and eating, but that cooking and eating can be a way into the lives and hearts of friends, foes, and strangers alike.
Food as a celebration of it's own, and of family, is a theme running through in Tortilla Soup. A Mexican-American chef (Hector Elizondo) has lost his sense of taste, and is losing his adult daughters even as they gather around tables laden with regional specialities. Through love, loss and change the shared meal links the family, and a shared love of food ultimately brings them together in their developing lives.
The cook as temperamental artist and lover is front-and-centre in No Reservations where Catherine Zeta-Jones plays Kate, a chef whose boss has sent her to anger management. When her sister dies and Kate becomes responsible for her niece, Kate must learn to concentrate on people and develop her love for people to balance it with a love for preparing and eating food. In this she is aided by the maverick chef Nick (Aaron Eckhart), and hey, Patricia Clarkson appears again.
Soul Food centres around the extended family gathering to eat. It's been praised by Oprah Winfrey, but panned by me because it says very loudly that all women without children envy all women with them. Ha! That's a load of something not edible at all.
For an exercise in peculiar eating, why not watch Daryl Hannah (a vegetarian) eating a lobster in Splash. She's a mermaid out of water and out of her depth in a fancy New York restaurant. In real life they made the lobster out of mashed potato.
We'd love to hear from readers about their favourite food in film movies. Don't forget your favourite scenes and your favourite quotes. Food can always add something to the cinematic experience, even if it is wafer thin.
Film can do more than fill the time while we eat popcorn. It can take us on journeys into ourselves that will stay with us always. And that is something that is so often lost in these days of corporate 'product' filling our screens.
by Ali Kayn
Mar, 2014.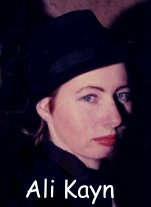 ---
Ali Kayn is the editor of Festivale Online Magazine and This is Reel Life. She has written commentary, reviews of films, books and technology, and travel pieces. Ali is active on Facebook, where she regularly posts information about Melbourne, Victoria, Australia, books, movies and more.
www.alikayn.com
Ali on Facebook
Festivale on Facebook
---
For posts about Melbourne events, places, news, reviews, giveaways, see our Facebook Page: