A Reel Life film section
Issue: Spring 2013
The First Wives' Club (1996) movie review
A Good Life is It's Own Reward (But Revenge is Good, Too)

Don't get mad -- get everything!
Four college graduates are joined together forever in love and jewellery. Years later they come together again, at the funeral of one of their number. They are first wives, left behind by the men they helped succeed to be replaced by a younger woman.
Elise Elliot (Goldie Hawn) is a plastic surgery addict trying to hold onto her career as an actress in a world preoccupied with beauty. Brenda Cushman (Bette Midler) is trying to raise a teenage son and avoid seeing her ex-husband and his new love interest in the ads for his appliance company. Annie Paradis (Diane Keaton) is sure that her husband's absence is just a phase that therapy will cure. Their mentor is Gunilla Garson Goldberg (Maggie Smith), and when the women decide to make their husbands pay for their perfidy, Gunilla is there to help them out.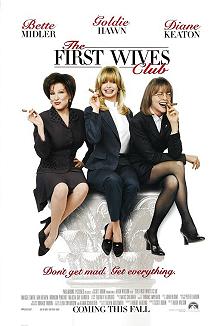 What starts out to be an exercise in revenge becomes a revitalisation of their friendship, and a reawareness of their own identities as people. As wives they had put their identities and needs aside, as ex-wives they develop and grow, and extend their world view.
From moments of broad comedy to subtler witticisms, this is a comedy that proves that while youth may be worshipped in some quarters, fifty is fabulous with the right attitude.
by Ali Kayn
Australian release 24 October 1996
For credits and official site details, see below
Search Festivale for more work by the film-makers below.

See also: Sarah Jessica Parker (Sex and the City 2, Mars Attacks!, The First Wives' Club); Bette Midler (That Old Feeling, Isn't She Great, The Women, Then She Found Me, The Stepford Wives, What Women Want, Beaches, Big Business, Outrageous Fortune, Ruthless People, The Rose); Diane Keaton (Something's Gotta Give, Morning Glory, Because I Said So, Father of the Bride, Baby Boom); Goldie Hawn (The Banger Sisters , The Out-of-Towners, Death Becomes Her, Housesitter, Overboard, Swing Shift, Private Benjamin); Maggie Smith (Harry Potter series)

for movie, TV show, or person

Film commentary and upcoming movie release dates at reel-life.info

Just the facts:

Title: The First Wives' Club (1996)
Written by: Olivia Goldsmith (novel), Robert Harling (screenplay)
Directed by: Hugh Wilson
Running time: 103 mins
Rating: PG

---

The Players: Goldie Hawn, Bette Midler, Diane Keaton, Sarah Jessica Parker, Maggie Smith, Stockard Channing, Marcia Gay Harden

---

Official website:
IMDb entry

---

For session times of current films, use the cinema listings on the Movie links page. For scheduled release dates, see the coming attractions section.

For more information about this movie, check out the internet movie database.
For the latest additions to Festivale, check out the change history section.