---
---
A Reel Life film section
Issue: May, 2016
Documentaries the new Black?
Hot Docs at Palace
In Melbourne starting June 14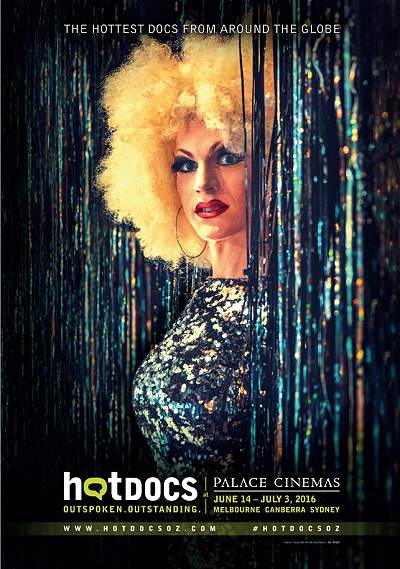 At the terrific Scorsese exhibition at Melbourne's ACMI in Federation Square a fellow film devote worried that there was just too much happening In Melbourne for the movie lover. I beg to differ. You need to revel in the variety and be strategic in your diary entries. So get that diary out and consider the programme of films being shipped from Toronto's ground breaking Hot Docs season. It starts in Melbourne on June 14 until June 29 with screenings at Palace cinema's Como Prahran and Westgarth in Northcote.
Hot Docs is the biggest festival of documentaries in North America showing 200 films from Canada and global filmmakers to an aggregates audience of 200,000 people from April 28 to May 8.
Richard Moore who was at the helm of MIFF (Melbourne International Film Festival) from 2006 - 2010 is very enthusiastic about the program of 24 films that he has put together after collaborating with the Hot Doc's people picking from short lists of last years, and this year's offerings
June is a busy month for Melbourne's movie lovers.
"Some people think docos are the new black," said Moore. "This is really a test to see if there is an audience out there who will go and see docos outside the normal run of local release cinemas or specialty festivals."
Moore himself started his film adventure with his wife in a small production company making, producing and directing documentaries before he went on to be commissioning editor of arts for the ABC. Today he curates and produces film festivals.
"Really it's out of a passion from my background as doco maker," said Moore, "but also having been to festivals for a long time, been programming for a long time and going to the cinema all the time I think docos are far more interesting and more real. "
"When I thought of the idea of doing Hot Docs in Australia," said Moore, "I approached Hot Docs in Canada obviously to get their blessing and am working very closely with their programming team but they leave me a lot of independence. I went to Palace and asked them if they would like to take it on and give it a try. And they readily embraced it. Without their backing it just wouldn't happen because it does require a lot of organisation and it does require a fair bit of finance to make these things work."
"I went to Hot Docs a couple of times and I couldn't believe it," said Moore, "I couldn't believe that here you had a city, Toronto with such an extensive program focused just on documentaries, with its own dedicated space the Bloor theatre right in the student Quarter totally dedicated to docos and every screening I went to was packed. They're all about the culture of docos and doco making. They've got a market, pitching sessions, people visiting from all over the world, you know commissioning editors, sales agents and people presenting their docos, and they do some really good educational work. I thought that along with the festival in Amsterdam and a great festival in Copenhagen and maybe Sheffield Hot Docs in probably up there amongst the top documentary festivals in the world. And if you're going to do something do it with the best."
Moore has put together a programme with several criteria and one leading intention: to take people to a place we would never normally go. "I tried to focus on being as inclusive geographically as possible so it's not just an Anglo Saxon reflection, stories from different places," said Moore.
"One of the films that just knocked me over backwards is a Norwegian Finish co production. It's called Diving into the Unknown and it is an absolute edge of the seat thriller, it's a caving adventure but under water underneath the ice underneath the snow in these caves. They're Finnish divers and they go into these caves like over 100 metres down deep, deep into this Norwegian cave system. It is totally freakish and I'm not a caver but the story is basically two people on this dive don't make it and their bodies are stuck way down in this tricky cave system. The cave is sealed off by the Police but these guys decide that they will mount an operation to go and find their friends and bring them out. It's extremely dangerous. The cinematography is incredible 75% of it is shot under water but real wide screen as well as being terrifying and exciting it's just beautiful."
And though this one is just Canberra, Sydney Melbourne my ultimate aim would be to take it all round Australia.
"There's a lovely documentary by an American lady called Beth Murphy called What Tomorrow Brings and it's set in Afghanistan in this tiny, tiny little village in Afghanistan with this amazing woman who is attempting to set up, she does set up the very first girls' school in that area and you can imagine the type of opposition she gets. In the opening scenes you see her tasting the water for the school because what Taliban have been doing in Afghanistan is poisoning wells so that anyone who tries to set up places to educate women they don't give a damn about how many people they kill."
Overall Hot Docs at the Palace has 24 films from 15 countries with two world premieres of Australian films.
"I really, really wanted to show that this festival could be a platform new Australian docs," said Moore, "so I am very happy to have Helen Kapalos's A Life Of its Own, a report on medical marijuana which is a fascinating story and also the boys and girls own adventure Charlie Hill Smith's Motorkite Dreaming. So it's great to be able to launch them out to the world from Hot Docs." "Hopefully we will find an audience," said Moore. "Docos are being programmed in the big city festivals MIFF and the Sydney Film Festival and there are some State based festivals but there is nothing yet that is a national documentary festival. And though this one is just Canberra, Sydney Melbourne my ultimate aim would be to take it all round Australia."
June, 2016
---

Annie McLoughlin is a freelance journalist who contributes regularly to radio station 3CR and to Festivale.
Annie McLoughlin page
Facebook: www.facebook.com/annie.mcloughlin
---
---
Film Releases - Schedule of Coming Attractions
Films scheduled to be released in Australia June 2016
Films scheduled to be released in Australia July 2016
Films scheduled to be released in Australia August 2016
Links to movie reviews, and first looks are in the Coming Attractions listings were available.
For the latest film reviews, check out our updates pages or browse through our film reviews index. We update the Festivale Online Magazine Facebook page daily with trailers, news, and more.

---
Film Festivals this Season
Film Festivals are listed in the Coming Attractions pages:
---
Giveaways
Watch here or our general page or our specialist Facebook page for Movies, Television and DVDs for more giveaways as they are released.
Join in the draw this issue for prizes including:
Murder the complete series (DVDs)
---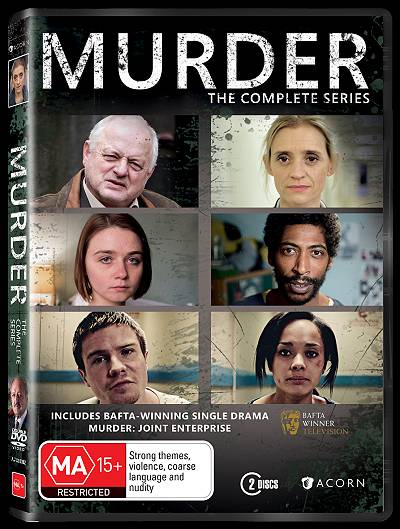 Thanks to RLJ Entertainment, we have five DVD sets to give away of the excellent television series Murder.
BBC's BAFTA Award winning 4-part series, MURDER, throws a stark and unsettling light on four separate cases titled Joint Enterprise, The Third Voice, Lost Weekend and The Big Bang. Rich in forensic and psychological detail, with a unique depth of characterisation, each of the films pick apart a murder in all its terrible complexity, hearing the story from every angle and casting the viewer as a jury-member forced to decide on guilt and innocence.
Mixing techniques of documentary with the power, invention and breathtaking visuals of drama, these haunting and graphic 'whodunits' live long in the mind.
Murder: The Complete Series will be released on DVD nationally from June 1st.
Here's the deal, gentle readers. WIN a copy for yourself AND a friend.
First name drawn by our computer wins two (2) copies, the second name gets one. Aussie snail mail recipients only.
To enter, click facebook or your e-mail in the box below, enter your name and e-mail address (just so we can contact you, no mailing lists), then (here's the tricky part) click the click here button AND the Enter box.
First prize: Sam Jones, Melbourne
Second prize: Cian O'Reilly, Melbourne
Third prize: Lauren Papadopoulos

---
Made in Melbourne Film Festival Submissions Open
Submissions are now open for the Made in Melbourne Film Festival, for more information: mim.org.au
---
For posts about Melbourne events, places, news, reviews, giveaways, see our Facebook Page: