---
Home (cover) > Current issue of The Bookroom
---
Summer 2015-6
(Dec - Feb)
What is this thing with Zombies!!!
by Dee Leana Carter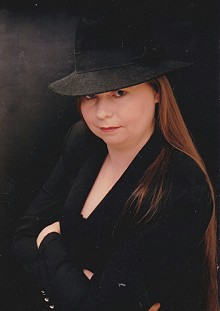 I was ignoring them, the creapers, the eaters, the shamblers, the mutterers, the dripping, the splitting, the falling apart. I was content to consider them proof that some people would watch/read anything and then I was approached by someone putting together -- and I quote -- a collection of zombie romance short stories.
What was that there now? Who the what which???
My boyfriend has bad breath not because he needs to visit the dentist but because he's been dead three weeks?
Ahhhh, no.
Okay, now you have grossed me out to the point I must retaliate. (oh, and my reaction to the zombie anthology was a "no, thanks." In fact I told her that if I did I would have to write a story from the point of view of the woman whose daughter calls her and says, "oh, by the way my new boyfriend is walking dead," and then goes racing round the house covering the furniture with plastic wrap and spraying the boy with room freshener before he can come in. Weird thing, the anthology maker wanted the story.)
Looking at the issue from the psychological point of view, zombies arise from two sides of the crazy human psyche. The wish not to die and the wish to live forever. (they are different)
All sorts of religions have gained adherents by running around waving their hands in the air declaiming that you won't have to die on a permanent basis. They have a magic trick! you will sort of temporarily die, your families will mourn and hold a party for you, that you can't attend, and then, later, you'll go to a Club Med in the sky.
See? Not dead!
Not exactly the same sort of alive as now, but better! But that means dying and going away and that is unsatisfactory to some humans because they like the life they have and want to keep it.
So they have a part way trick. The living forever ambition. For some this involves torturing marine creatures and mixing potions with their inedible body parts so that you are somewhat dead while also being somewhat alive. Or, if you want you can get really, really sick in the way that doctors cannot save you because you just ate him (not recommended by my insurance plan), or some other twist of plot, but the upshot (and shot, and shot and hit him over the head) of this is you are still somewhat alive. That means, not completely dead. You can still move about, visit friends and neighbors, in the most recent TV series, hold down a job at the morgue where you solve murders by eating the brains of the recently dead.
Hey, that is almost a community service. You should be rewarded. We'll put up a statue for you and when you finish getting dead turn the statue into your headstone. Deal? No.
Listen. Dead is dead. It isn't a plot point and it happens to everyone. It is the almost dead/somewhat alive characters in fiction that are getting to me. Vampires have gone from being evil, lisping monsters in the night to pathological abusive boyfriends. Being a werewolf nowadays guarantees you will have great abs!, and not be a creature that eats living creatures while they scream. (well, maybe both) Point is, none of these are true romantic leads for the modern person. I mean, when I dress for a date I don't want ichor and decaying, moldering blood dripping on my best shoes. Why is that attractive to you? What has gone wrong in your brain (as yet uneaten) that you would want this?? Are the guys in your home town really so bad that you would want an undead creature of the night instead?
And, phoeey. I don't.
In fact I am supporting a new Super Hero team: Mortician Man, with his side kick - Formaldehyde Girl. Their slogan. When we plant them, they stay down!
by Dee Leana Carter
November, 2015


---
D.L. Carter is an Australian author now living in New Jersey, U.S. Her aim is to write Reasonable Intelligent Heroines
---
This issue in Festivale
by Bascomb James
Grand Tradition (GT) science fiction is a writing and storytelling style popular in mid-century SF (science fiction) publications. GT stories were plot-driven adventures that were unabashedly fun to read and included a "Harrah" moment at the end. GT stories were written in every SF motif (horror, noir, pulp fiction, first contact, spaceship, alien invaders/visitors, political intrigue, hard science fiction, etc.) and they embraced all of the familiar SF tropes. read more
by Destiny West
Author and filmmaker Casper Jean Rimbaud has always been extremely honest about his struggles with bipolar and drug addiction, and has been turned to for guidance by others suffering from the illness. Destiny West sat down with Casper to discuss his novel and film, and his struggle with mental illness. read more
---
Pay As You Like It
Graham Masterton's Christmas Present to His Readers
From the darkest depths of the imagination, ringing bells of fear, comes OpenBooks.com's Santa Graham Masterton a well-established British author, beloved by horror fans, most well known for his "Manitou" series, as well as horror, crime and even sex instruction books! His Beholder is a Christmas gift for OpenBooks.com readers and tells a story about a little girl who believes that her mother is keeping her imprisoned in the house because she is too beautiful to go out.
Each downloaded copy of Beholder and other open books comes with an embodied payment link. Readers can easily say thank you to Graham Masterton and other talented authors from our service by paying after reading exactly what they feel the book was worth.
And now they can also click the "Send as gift" button on the website, write their holiday greetings, and we'll deliver the eBook in the form of a Christmas present.
Graham Masterton will also take part in OpenBooks.com online "Ask Me Anything" session on 10th of December, so fans will have a unique opportunity to posing any questions they want.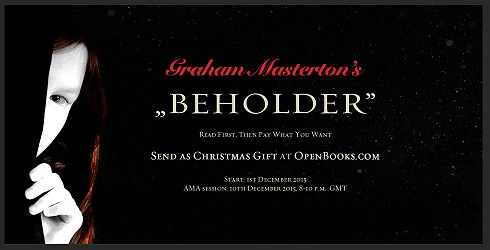 ---
$100,000 Writer in Residence Fellowship to combat obesity
A creative writer will join the fight against obesity, diabetes and cardiovascular disease with the announcement today of a Writer in Residence Fellowship at the University of Sydney's Charles Perkins Centre.
The $100,000 fellowship - the first of its kind in Australia - will take an unusual approach in enlisting a creative writer in a domain that is often seen as exclusively medical. Expressions of interest are now open for the Fellowship, which has been funded by a generous gift by alumna and inaugural patron Judy Harris.
Said Professor Stephen Simpson, Academic Director of the Charles Perkins Centre, "The insights and interpretations of creative writers are a missing but crucially important piece of the puzzle in our fight against obesity and its related conditions, which are perhaps the most complex health issues in human history."
Rather than writing specifically about obesity and chronic diseases, the writer will be given an open slate to creatively interpret the issues and their inherent complexity -- not just health, but also wellbeing, food, ageing, social disadvantage or cultural identity.
"The Fellowship is a tremendous opportunity for an established creative writer to transform the world's understanding of and attitudes towards the modern epidemics of chronic disease by interpreting them in a manner beyond the reach of scientists and clinicians."
Starting in 2016, the Charles Perkins Centre Writer in Residence Fellowship will be for one year and will provide $100,000, an honorary appointment at the University of Sydney, an office in the Charles Perkins Centre Research and Education Hub, full library access, and the opportunity to meet and work with a diverse range of researchers, educators and clinicians. The Fellowship will recognise an Australian writer working in a creative genre (including fiction, poetry, theatre, creative non-fiction, digital media, and screen) who has published a major work, or has had it performed or produced professionally within the past five years. Expressions of interest must be submitted by 29 January 2016, with the Writer in Residence to commence in mid-2016.
---
Entries now open for the 2016 National Biography Award
Entries are now open for Australiaâ's richest prize for biographical writing and memoir -- the National Biography Award 20166, with $25,000 awarded to the winner and $1,000 for each shortlisted author.
The National Biography Award is administered and presented by the State Library of NSW on behalf of the Award's benefactor Mr Michael Crouch AO.
Established in 1996 by Dr Geoffrey Cains, the National Biography Award encourages the highest standards of writing in the fields of biography and autobiography, and promotes public interest in these genres.
There will be an extended nomination period to allow for the Christmas and New Year break. Entries for the 2016 Award will close on Thursday 4 February 2015.
The online nomination form and guidelines are available on the State Library's website.
The winner will be announced at the State Library of NSW in August 2016.
---
Updated Series Series (Reading order) pages: Eve and Roarke (In Death); Tony Hill and Carol Jordan (Wire in the Blood); Cyrill Landry & Jolie Burke; Janet Evanovich & Lee Goldberg's Fox and O'Hare series;
---
The Usual Questions Project
<

More authors have answered The Usual Questions, our quirky, Q and A sessions.

Anyone who is a professional can be part of the project: authors, illustrators, film-makers, performers. The Usual Questions index page has a list of the authors and film-makers and illustrators participating in the project.
People who have answered the questions in the past include Terry Pratchett, Lawrence Block, Janet Evanovich, Charlaine Harris, Tanya Huff, Harlan Ellison.
This issue, the following authors and editors and illustrators have responded:
Author Lee Goldberg answers The Usual Questions
Jackie King answers The Usual Questions
For posts about Melbourne events, places, news, reviews, giveaways, see our Facebook Page: